Netanyahu Goes Where No Israeli Leader Has Gone for Votes
(Bloomberg) -- Donald Trump had barely finished expounding on his vision for Middle East peace when the tectonic shifts he had unleashed became very real.
Annexing land seized by Israel in a 1967 war and that Palestinians claim for a state had long been taboo, even for nationalist Prime Minister Benjamin Netanyahu. Not any more. As the two leaders, each facing legal threats to their rule, relished their time in the spotlight Tuesday, television screens flashed reports the cabinet would meet within days to discuss bringing Jewish settlements built on the occupied West Bank into a bigger Israel.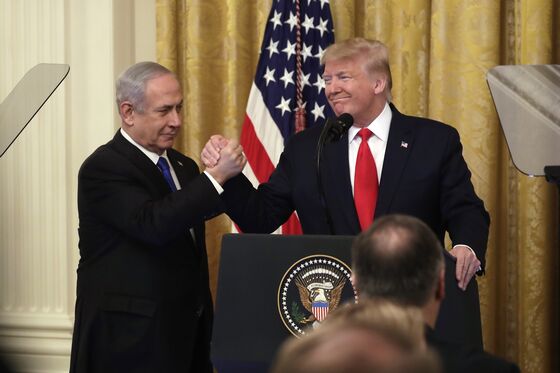 Netanyahu is, after all, a man in a hurry. Within weeks, he'll face his third election race in less than a year after two tight and inconclusive polls, and this time the urgency to win has become even greater. Since the last vote, he's been charged in three graft cases, and securing the extra support needed for victory offers him his only guaranteed opportunity to avoid jail -- the chance to push through immunity legislation that would shield him from trial.
The optics of him standing beside Trump as the U.S. leader unveiled a plan so favorable to Israel were a world away from the televised announcement of his indictment just two months ago.
"He looks like the guy you want to run the country," said pollster Mitchell Barak, a former Netanyahu aide. "The indictment thing is going to be peanuts because we've been talking about his indictment for three years already." Netanyahu is "throwing everything he's got," he said.
While the prime minister chases an edge ahead of the March 2 election, unilateral annexation would sap the Palestinians' dream of an independent homeland with the West Bank as its heart. The state of Palestine envisaged by Trump -- which Netanyahu played a core role in conceptualizing -- would incorporate only 70% of the territory, far less than previous peace plans the Palestinians rejected.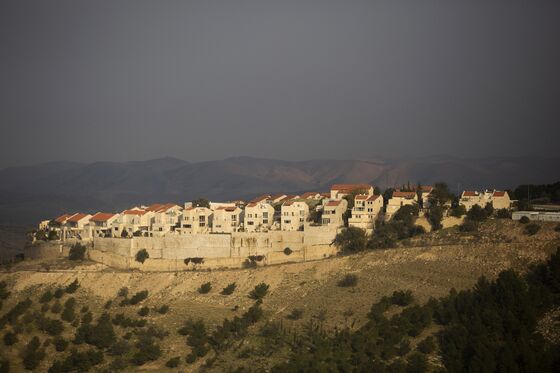 Annexation wouldn't change anything immediately on the ground for the Palestinians, who already live under an occupying force. But it could make life more difficult in the future if continued Israeli construction in annexed areas creates new encumbrances on the movement of Palestinian people and goods in the West Bank, said Khalil Shikaki, director of the Palestinian Center for Policy and Survey Research.
"It would be extremely problematic and create a tremendous amount of tension," he said.
By Wednesday, there was already doubt over the timetable for an annexation decision. Yariv Levin, a lawmaker in the prime minister's Likud party, told Army Radio that technical reasons would delay a cabinet vote for several days, and it won't take place on Sunday as planned. U.S. Ambassador to Israel David Friedman told reporters a joint U.S.-Israel committee would have to discuss annexation plans. "The hope is they'll wait until after the election," Trump's senior aide Jared Kushner told GZERO Media, a subsidiary of the Eurasia Group political risk consultancy.
It's not even clear whether a caretaker government, which Israel has been functioning with for more than a year, would even have the authority to make such a major decision.
While it's Netanyahu's hope, there's no guarantee that the Trump plan's endorsement of expanding Israel's borders will push the prime minister over the top in his race against former military chief Benny Gantz and his Blue and White bloc.
Previous Trump pre-election gestures -- including recognizing contested Jerusalem as Israel's capital -- didn't deliver the boost the prime minister needed to secure a fifth term.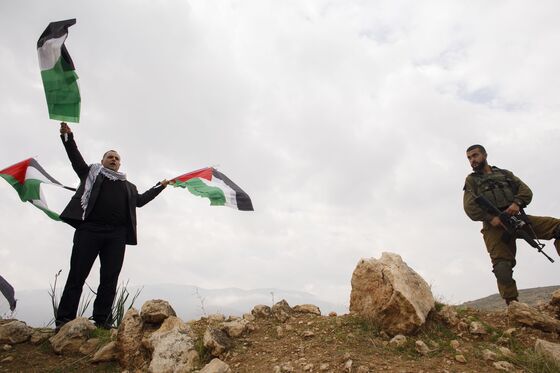 But the U.S. initiative does stand a chance of bolstering his support, said Ofer Zalzberg, a senior analyst at the International Crisis Group consultancy. "There are Likud voters who did not vote, maybe because of his legal issues, and now would, so in this sense I think it works in his favor," Zalzberg said.
On the other hand, "I see very few people who intended to vote for Blue and White who would vote now for the Likud, because Blue and White gave the impression it welcomes the plan as well," he said.
Israel has already annexed east Jerusalem, in 1967, and the southern Golan Heights in 1981, decisions rejected by most countries. The concept of annexing land in the West Bank, where more than 400,000 settlers live among 2.6 million Palestinians, had been unthinkable for decades, because of its questionable legality and the international outcry it would provoke.
But the idea has gained acceptance as the prospects for peace with the Palestinians dimmed. Many see the territory as the cradle of Judaism, or a strategic security asset, or both. And in the course of a quarter of a century of on-again, off-again peace talks, the number of settlers quadrupled, making any future transfer of the territory to Palestinian control increasingly difficult.
Now, Israel must act immediately to annex all of the territory the U.S. now recognizes as Israel's, and not in phases as some have recommended, said lawmaker Naftali Bennett of the nationalist New Right party, who was instrumental in bringing the annexation idea from the fringes and into the Israeli mainstream.
"What is postponed until after the election won't happen," Bennett said.
Israeli media reported that Likud is split over whether to annex via a cabinet decree, or also bring the proposal to parliament for legislation, where it would put Gantz into a tight spot. His Blue and White is an amalgam of centrists, leftists and hard-line nationalists. A vote on unilateral annexation -- as opposed to annexation within the framework of an agreed peace deal -- could create internal divisions that Netanyahu could try to leverage to his electoral advantage. Gantz himself has publicly endorsed the Trump plan, but in the past has opposed acting unilaterally on settlements.
Blue and White wants the election "to be about Netanyahu's indictment and corruption and ability to perform as a prime minster who is sitting in trial," said Yael Patir, Israel director for left-wing group J Street. "If it's a referendum on the future of the territories, then it takes us away from that."