Negative Real Yields Show Bond Traders' Growth Worries Deepening
(Bloomberg) -- It's been more than six years since the U.S. bond market's purest read on the global growth outlook was signaling this much concern.
The so-called real yield on 10-year inflation-linked Treasuries fell on Friday to negative 0.147%, its lowest since 2013, when Europe's sovereign debt crisis was raging. Now it's the spread of the Wuhan coronavirus that's fueling worries about the potential hit to the world economy.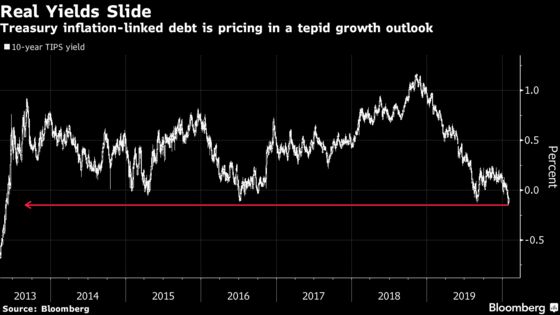 Of course, nominal yields are tumbling as well, but they factor in expectations for both growth and inflation. Yields on Treasury Inflation-Protected Securities, which debuted in 1997, strip out the inflation part. So their dive below zero -- also seen after the financial crisis -- underscores investors' darkening view of the growth outlook.
"The big fall in real yields is capturing the bond market's perception that consensus views on growth are too optimistic and need to come down," said John Herrmann, a rates strategist at MUFG Securities Americas. "There is a lot of uncertainty regarding just how widespread and large the fallout will be from the coronavirus."
While still below zero, the 10-year real yield rebounded Monday after Chinese authorities injected liquidity into the world's second-biggest economy. Meanwhile, a new antiviral drug by Gilead Sciences Inc. will be tested by a team in Beijing. A surprisingly strong U.S. manufacturing report also eased concern.
The real yield was as high as 0.25% in November amid speculation that the U.S. and China would reach a deal to ease trade tensions. The decline in January combines with softer American inflation expectations and the inversion of a key slice of the U.S. yield curve to drive home the market's take on the risks ahead. The Federal Reserve last week signaled it plans to keep rates steady and Chairman Jerome Powell said officials are monitoring the effects of the virus on global growth.
Chinese officials are considering lowering 2020 growth expectations due to the outbreak, and economists at Goldman Sach Group Inc. predict the effects of the virus will shave U.S. economic growth by 0.4 percentage point in the first quarter.
Herrmann predicts the Fed will have to easy policy over the next few years, with about an 85% chance that the first of a series of cuts through 2023 will begin by the end of this year.