Need to Flee Venezuela? Pay Huge Bribe or Stand in Line Forever
(Bloomberg) -- This is the longest line in Caracas, a city notorious for them. It's several lines, actually, rolling out from the intersection of Baralt Avenue and West 8 Avenue. The people standing, sitting and sleeping in them aren't marking time for bread or medicine or car parts or water. They've had enough of all that madness. This is the line to get out.
Specifically, for passports, the burgundy booklets issued by the Administrative Service of Identification, Migration and Foreigners. The multitudes on the pavement outside can't, of course, afford to pay bribes to speed things along. The going rate for one passport is more than $2,000, over 68 times the monthly minimum wage. It's more than double what it was last year, when President Nicolas Maduro's administration first acknowledged the document shortage, an increase reflecting the depth of government dysfunction, the desperation to leave, or both.
Options are dwindling for anyone without means, now that only a few countries such as Argentina and Brazil, are still accepting Venezuelans who simply show their national ID cards. A passport is freedom. So the fetid streets around the hulking building downtown start getting jammed up before dawn. The assembled nap, or tap away on phones, or stare off into the distance. National guardsmen, wearing green fatigues and assault rifles, typically arrive around 6:30 a.m. to corral the crowds and sometimes return at night to shoo away those camping out. Once the soldiers leave, the people return. And they get back in the lines to end all lines.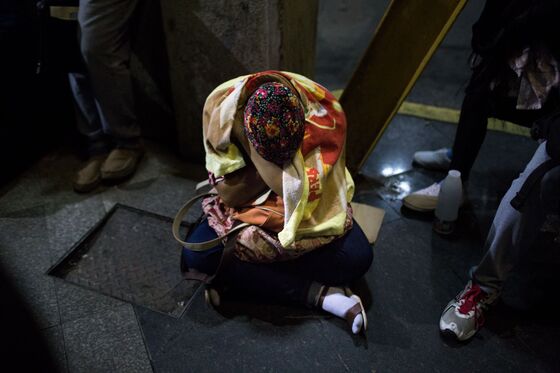 At around 5 a.m. on a Tuesday, Antonietta Suarez had already been in place for nine hours, after a six-hour bus ride from Barquisimeto, where she works in a car-parts store owned by her husband's family. She was desperate for a passport for her toddler so they all can emigrate to Chile.
"It's just another offense, another humiliation—people are sleeping in the street with their children," she said, clutching a pillow and pointing to bodies wrapped in blankets or curled up on pieces of cardboard. Stray dogs dug through trash, and feces dotted the pavement. "I never thought it would come to this. I figured this government would have fallen by now."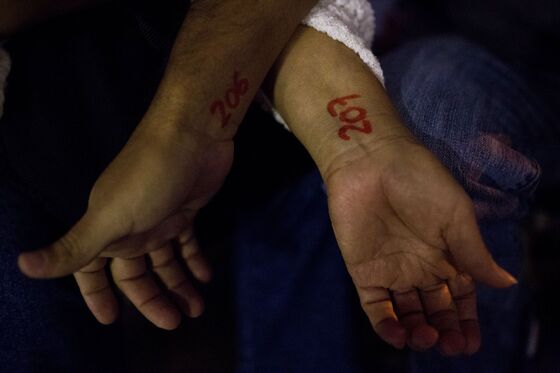 Suarez, 27, was in the first line, hoping to get into the second one. To do that, she'll have to see one of the officers who scrawl numbers on an arm or hand to signify the bearer is on the list of the 500 who will be allowed into the building the next day. Some wait 48 hours or more to make it to this second line, which is shorter, maybe eating up a mere eight hours at the most. There's a third line, by the way, of people who have made their applications and are back to pick up their prizes.
Not until last year did Suarez and her husband begin talking about leaving, in the wake of the protests against the Maduro regime that at their peak brought millions into the streets. The economy has gone downhill since, she said, with hyperinflation squeezing what little they earn.
"Everything is closing in around us. Everything keeps getting more and more difficult," she said. "It's not the life I want. And it's not the life I want for my son."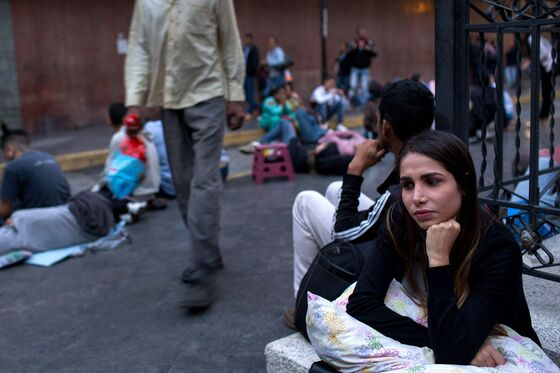 After a fruitless year visiting passport offices near his hometown of Puerto Ordaz—in Ciudad Bolivar, in Maturin, in Upata—Jesus Rojas traveled more than 400 miles to the capital. "This is it, the last try," he said as rush hour began. "Either they give me a passport or I'm getting on the plane without it."
Rojas, 26, is an agricultural engineer by training but hasn't been able to find a decent job in the fields. He worked on a ranch for a while, until cattle thieves made that too dangerous. He tried growing tomatoes, then yucca, but he couldn't earn much with either. "You can work hard and make enough to eat, but what happens when you get a flat tire or need a spare part? It's impossible."
Echoing many around him in the morning chill, Rojas said he still loves the country, just not the government or the economy, what's left of it. "I protested last year," he said. "I tried." Now, "we've resigned ourselves to simply getting out."
He has settled on Argentina. He'd rather have a passport, of course, so he won't be stuck. But his ticket to Buenos Aires was in his pocket.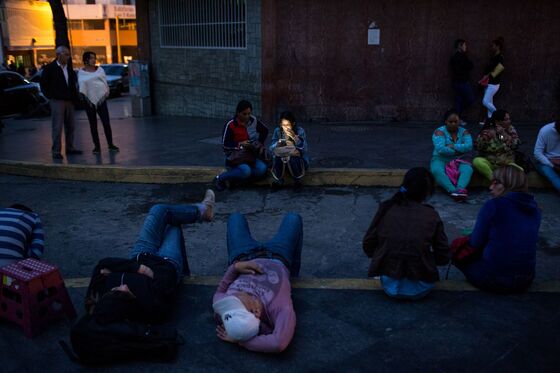 Cilia Gonzalez, bundled in a thick jacket and sitting on a chair she brought with her, proudly displayed the digits on her wrist: 207. She would make it into the building sometime today, she'd been told.
A retired seamstress, Gonzalez, 60, has her sights set on Spain. She'd hitched rides from the Caracas suburb of Guatire four times over the past week, biding her time for as many as 10 hours before heading home at night; she was too fearful to stay after the sun set.
"There's no life left here anymore," she said as she huddled on a curb with her son, Oscar Gomez, 42, who was keeping her company. "Everyday brings another problem, another worry or struggle."
Asked how she passes the hours, she laughed. "You get to meet a lot of people, you talk, but mainly we just waste our time."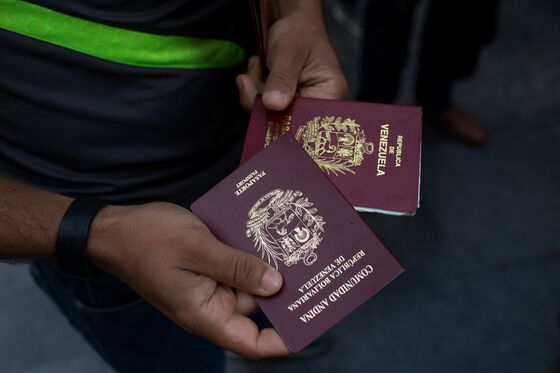 Emil Bellorin and Ismarlys Quijada began selling almost everything they own, anything they won't be able to carry with them, last year. All they need now is passports for themselves and their three children.
They'd never bothered to apply for them before because moving away had never crossed their minds. But life in Carupano, on the eastern coast, has become unbearable. Bellorin, 32, an accountant, compared it to a sinking ship. "Every time you manage to plug a hole, two more appear."
Quijada, 31, picks up odd jobs selling cakes and pastries, and it's never enough. "You dread the beginning of the year," she said, standing near the end of a line that wrapped almost entirely around the block, "because buying school supplies or new shoes for your kids is unimaginable."
They ended up in Caracas after making the rounds of regional passport agencies that were either out of supplies or understaffed or seemingly never open. They have discussed trying to to make their way to Peru. They're willing to stay on the street here for several days.
"You feel helpless, but at the end of the day it's just another line. You have to wait to buy food, at the bank for cash," Quijada said. "And now, to leave."