NBA's Chris Paul Joins With GoPuff in Push for Black Businesses
(Bloomberg) -- Chris Paul, the All-Star NBA player who's a vocal advocate for healthier eating and Black-owned businesses, is taking his message to homes across the country through a deal with the delivery service GoPuff.
The company -- backed by venture investors including Accel, and valued at almost $4 billion during its most recent investment round -- is teaming with Paul, 35, to build out its "Better For You" product category. Paul will also connect businesses owned by people of color with the GoPuff delivery platform.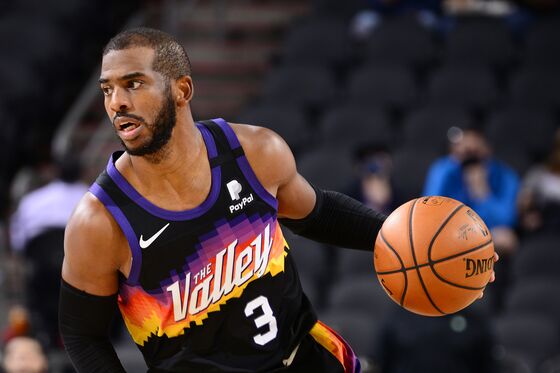 The deal was driven by Paul's desire to better serve Black consumers, who are three times more likely than White Americans to be vegan, as well as Black entrepreneurs looking to expand. Supporting minority businesses became a rallying cry when the NBA went to Walt Disney World last summer to finish the season without fans. As president of the NBA Players Association, Paul was instrumental in the union's decision to continue the season amid protests over the killing of George Floyd and the shooting of Jacob Blake.
"When we went to the bubble, we wanted to push local businesses and Black-owned businesses," the Phoenix Suns point guard said in an interview. "This is something we want to continue to build on and continue to grow. That's the most exciting part of this deal."
The GoPuff service is available in more than 500 U.S. cities, and recently announced plans to start delivering in California. The expansion was made possible through the acquisition of alcohol specialty retailer BevMo! for $350 million. Unlike delivery services like DoorDash and Uber Eats, GoPuff holds its own inventory and distributes via 200 so-called micro-fulfillment centers across the country.
GoPuff, operated by GoBrands Inc., specializes in what the company calls "instant needs," everyday items such as home products, baby and pet foods, and over-the-counter medications. Controlling that inventory allows the company to quickly bring on new vendors and take them to new markets, Yakir Gola, GoPuff's co-founder and co-chief executive officer, said in an interview.
"A lot of people can think of ideas and start new businesses, but distribution is the hardest problem to solve," Gola said. As part of the new deal, GoPuff will offer plant-based food and drink options to teams visiting the Suns this season.
Off the court, Paul has nurtured his ambitions as a businessman. He's a part-owner of the Winston-Salem Dash minor-league baseball team in his home state of North Carolina, and has various endorsement deals, with companies from Beyond Meat Inc. to State Farm insurance.
Through Ohh Dip!!! Productions, he's helped create shows or series including "Blackballed" and "The Game Changers." It was largely through working on the latter that he dug into a plant-based diet, for which he's become a vocal advocate.
For GoPuff, Gola said the pandemic and the resulting lockdowns across the U.S. have propelled an already growing company. "It accelerated the behavior that was destined to be changed anyway," Gola said. "It super-sized it."