NBA Considers Adding More Teams as a Fix for Pandemic Losses
(Bloomberg) -- The National Basketball Association's mounting losses from the Covid-19 pandemic have the league considering an option that's long been discounted: expansion.
Commissioner Adam Silver brought up the possibility during a conference call with reporters on Monday, signaling an about-face from previous statements indicating that adding teams wasn't likely to happen in the foreseeable future.
"It's sort of the manifest destiny of the league that you expand at some point," Silver said. "We've been putting a little bit more time into it than we were pre-pandemic. But certainly not to the point that expansion is on the front burner."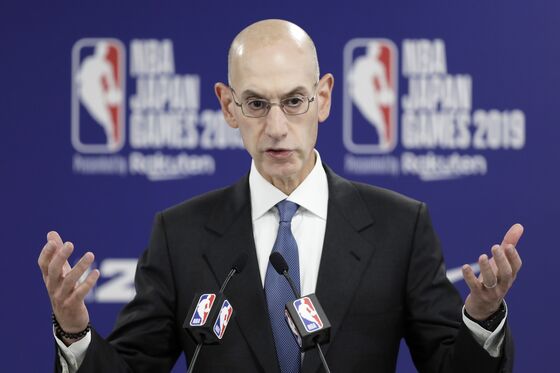 There's a simple allure to adding teams at a time when the NBA has seen revenue dip by more than $1 billion in 2020, with further losses expected during the new season. Prospective owners of a new team are expected to pay in excess of $1 billion to secure the rights to a franchise -- National Hockey League's newest team, the Seattle Kraken, agreed to pay a $650 million expansion fee in 2018 -- and the levy doesn't need to be shared with players.
Although expansion might appear to be a quick fix for an unexpected loss in revenue, some NBA owners have their doubts.
Dallas Mavericks owner Mark Cuban said on the Bill Simmons podcast last week that he favors expansion but argued that counting on the fee to fill shortfalls doesn't make sense. The fee is essentially a loan that needs to get paid back through revenue sharing, the billionaire said.
Cuban opposed a previous expansion: a Charlotte, North Carolina, team that was added in 2003.
"So here's the math of it: I voted against the Charlotte expansion and the reason I voted against it is the $300 million we took as an expansion fee -- now all of a sudden Charlotte gets 1/30th of all of the shared revenue," said Cuban. "And so, if that was $30 million -- just to pick a number out of the air -- and they're getting $30 million every year. Well, in 10 years, they get all their money back."
That means the expansion fee is just a loan to the league, he said. "I tried to explain that to some of the old-school owners that were involved and it just didn't resonate with them -- they just didn't understand it. Now, that $300 million looks like the bargain of all time."