NatWest Turns Its Back on Italian Bonds
(Bloomberg) -- One of the most avowed bulls on Italy has recanted.
NatWest Markets, which was long the nation's bonds, has thrown in the towel after the populist government unveiled a budget-deficit forecast that was worse than what economists were penciling in. The coalition is seeking to contain the shortfall at 2.4 percent of gross domestic product, compared with market expectations for as little as 1.8 percent.
Global investors have signaled their disappointment with the target by pushing wider the risk premium they seek to hold Italy's debt. The extra yield that traders seek to hold the country's 10-year bonds over those of Germany is now around 270 basis points, approaching the highest levels since the region's debt crisis about seven years ago.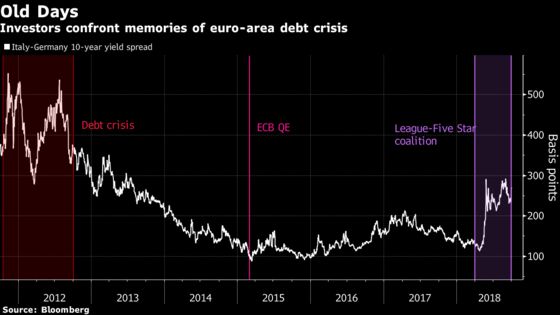 "Italy has surprised us all, and not in a good way," said Andrew Roberts, NatWest's head of European macro research. "I fear we will not be long BTPs again for some time."
NatWest recommended that investors go long the nation's five-year bonds before the deficit numbers were unveiled. The yield on the notes was 2.40 percent on Monday, more than triple the 0.75 percent on offer at the end of last year.
The surge in yields isn't adequate compensation for many investors given the risks that loom large over Italy, one of euro-area's peripheral economies.
While peer nations Portugal and Spain have faced their share of political turmoil over recent years -- such as the Catalan independence push last year -- those have never materialized into a full-blown crisis in confidence.
Italy's is different. Not only does the nation's new deficit target raise eyebrows in an economy that's one of the most indebted in the euro area, but also euroskepticism is never far below the surface.
The European Central Bank is also on course to bring its bond-buying program to a close in December, of which Italy has been a key beneficiary. Moody's Investors Service and S&P Global Ratings are due to review the sovereign ratings by the of the month, with both having the country just two notches above junk.
"Even though the yields and carry in Italian debt have increased significantly, the macro risk in BTPs is not something carry alone can overcome," Goldman Sachs strategists Karen Reichgott and Zach Pandl wrote in a note to clients. "Any further deterioration in the macro outlook could spark non-linear dynamics in Italian yields."