This Nattering Nabob Wishes You a Positive Fourth of July
(Bloomberg Opinion) -- I admit it. For the last year and a half, I've been a nattering nabob of negativism. (Shout-out to readers who can identify the author of this phrase, which has come to represent a familiar critique of the news media.) That makes July 4 a good day for me to celebrate some American bright spots. Sure, President Donald Trump has brought a divisive and mean-spirited streak to the White House. Respect for the U.S. around much of the world is at a low. But consider these reminders of American greatness:
1. More than two dozen of the Democratic challengers for U.S. House seats this fall are veterans. This is a sea change for Democrats. Their 1972 presidential candidate, Senator George McGovern, was a genuine World War II hero, flying 35 combat missions against Nazi Germany. But during his presidential run he refused to let his staff publicize his military record, fearing he would alienate supporters who opposed the Vietnam War.
Almost a third of this year's Democratic veterans are women: a Navy helicopter pilot, an Air Force captain, a Marine combat pilot.
In a heavily Republican central Texas district, for example, MJ Hegar, a former Marine helicopter rescue pilot, ran an ad that's gone viral. Watch it:
She recounts her days in Afghanistan, where she was shot down in 2009, and her lobbying effort to overturn the Pentagon's ban on women serving in combat. Members of Congress, including the one she's running against, wouldn't talk to her. She has a chance because of her story and her service.
2. The American tolerance for immigrants isn't dead, and can show its face in surprising places.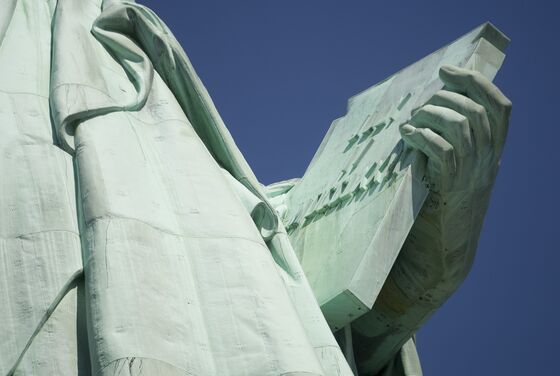 Reflect for a minute on the Statue of Liberty. It didn't arrive in New York Harbor until a century after the nation's founding — inscribed on it in Roman numerals is July 4, 1776 — but its message articulates America's creed as a nation of immigrants: "Give me your tired, your poor, your huddled masses yearning to breathe free." Eight signers of the Declaration of Independence were immigrants; so was a future Broadway musical character, the Caribbean-born Alexander Hamilton.
Today there is no more conservative state than Utah. Every Saturday morning, the Sunnyvale farmer's market in Salt Lake City sells locally grown produce and offers free lunches to kids. These are grown by more than 100 immigrant families from places like Somalia, Burma and Syria. Local volunteers teach them gardening and farming skills.
3. In battle, as a prisoner of war and as a veteran politician, Senator John McCain of Arizona embodies patriotism. It's easy to imagine him as one of the mavericks in Philadelphia 242 years ago.
The recent HBO documentary, "John McCain: For Whom the Bell Tolls," captures his essential integrity despite a few flaws. One of my favorite vignettes shows his reaction while running for president in 2008 against Barack Obama when a Wisconsin voter told him the Democrat was an "Arab" who "scared" her.
"No ma'am," McCain replied. "He's a decent person and a person you don't have to be scared of as president of the United States."
There's an argument about "American exceptionalism," but it's inarguable that McCain is an exceptional American.
4. "Made in America" still resonates around the world. While foreigners debate whether the hostility emanating from Washington is a permanent change or passing aberration, they continue to devour American culture. Most of the most popular movies internationally were made in Hollywood, led by "Star Wars: The Last Jedi," which grossed $1.3 billion in the six weeks after its release in December, more than half of it overseas. Of the athletes listed by ESPN as the most popular around the globe, five of the Top 10 are Americans. LeBron James finished second behind Portuguese soccer star Ronaldo.
The State Department dispatches musicians and artists all over the world to display American talent and creativity to welcoming audiences. In most foreign capitals, there will be red, white and blue festivities on Wednesday.
The new movie "Shock and Awe" deserves special mention this week because it celebrates a vigilant free press.
It recounts the 2002 run-up to the invasion of Iraq, and the dire warnings from members of President George W. Bush's administration about weapons of mass destruction supposedly possessed by the Iraqi dictator Saddam Hussein. The heroes are the journalists in the Washington office of Knight Ridder newspapers, led by bureau chief John Walcott, whose reporting challenged the misinformation leaked by officials and duly recorded in most of the nation's leading newspapers. (It's a shame it omitted the Washington Post reporter Walter Pincus, who also questioned the Bush administration's veracity.)
The July 4 holiday is a good day to celebrate the value of a free and probing press that challenges the government. Independence has always needed plenty of help since 1776.