Nasty Weather Means Kansas Farmers Stop Planting Winter Wheat
(Bloomberg) -- It's getting nasty in Kansas.
This should be the start of the state's driest time of year. Instead, one of the rainiest Octobers on record brought big delays for farmers harvesting soybeans. That was followed by early snow -- a freezing mess that means a lot of crops are still stuck in the field.
All that is especially bad news for farmers who seed the same areas with winter wheat once the soy is cleared. The ground is too wet for planting. It's bitterly cold, and there's more snow on the way, so there's little chance things will dry out anytime soon.
Winter wheat planting in Kansas, the top U.S. grower, is running more than 10 percentage points behind the historical average for this time of year. For a lot of farmers, things have gotten so bad they're just going to give up on trying to sow their remaining acres, according to Aaron Harries, the vice president of research and operations at growers' group Kansas Wheat.
"It's kind of a domino effect," Harries said by phone from Manhattan, Kansas. "The rain made it too wet to harvest the soybeans, and then the wheat is planted in the same fields. The snow just makes the problem worse."
The woes come after global crops were plagued by drought, wildfires and severe heat earlier this season. Prices for benchmark futures in Chicago are up 18 percent this year, heading for the biggest annual gain since 2012. In the U.S., winter planting is also trailing the five-year average in other major growers including Texas and Oklahoma.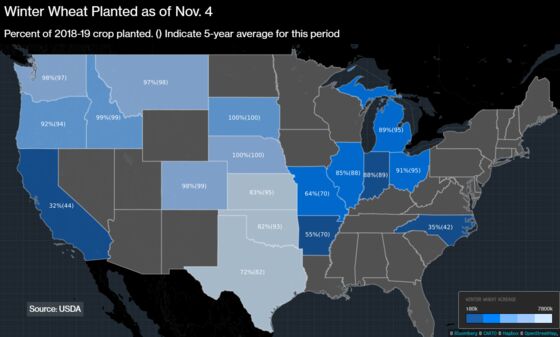 Back in Kansas, as much as 6 inches (15 centimeters) of snow fell in parts of the state on Wednesday and Thursday, said Ryan Truchelut, chief meteorologist at WeatherTiger LLC in Tallahassee, Florida. Areas of neighboring Nebraska were also blanketed. The central U.S. will be "very, very cold" this week, with temperatures dipping as much as 20 degrees Fahrenheit below normal across much of the Plains, he said.
Winter wheat, mostly used in bread-making, is planted in the fall and lies dormant during the winter months until warmer weather triggers further growth. Yield potential slumps if crops are seeded after early November, Harries of Kansas Wheat said. That's because plants don't have enough time to produce more tillers, the stems that emerge from the root of the plant and make grain, before the winter dormancy, he said.
Farmers may have done some planting last week, "but it's probably going to be shut down now," Harries said.
Even if Kansas growers aren't able to sow as much as they'd planned, ample global stockpiles could help cushion the supply impact. While wheat prices have climbed in 2018, benchmark Chicago futures peaked for the year in early August and have trended lower since then as Russia continued to have a strong pace of exports. The December contract settled at $5.02 a bushel on Friday.
Hedge funds are still cautious on the market, but they're starting to back away from bearish bets. In the week ended Nov. 6, they held a net-short position of 41,143 futures and options, according to U.S. Commodity Futures Trading Commission data published three days later. The holding, which measures the difference between bets on a price increase and wagers on a decline, compares with 44,717 a week earlier. Short-only wagers fell for the first time in 10 weeks.
To gauge where the market is going next, traders should watch wheat's 200-day moving average, said Walter "Bucky" Hellwig, a senior vice president at BB&T Wealth Management in Birmingham, Alabama, which oversees about $17 billion. Prices have been "hugging" the line for the last few weeks and a strong break above or below the gauge could signal the next move for futures, he said.