Naspers Jumps Most Since 2014 on Double Boost From MSCI, Tencent
(Bloomberg) -- Naspers Ltd. soared the most in close on four years Wednesday as investors got two pieces of good news.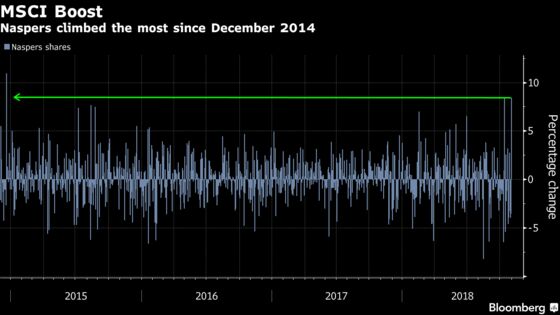 Naspers benefited from a 5.9 percent rally in its 31 percent-owned Tencent Holdings Ltd. in Hong Kong, the biggest gain for the Chinese internet giant in 2 1/2 weeks. Secondly, index compiler MSCI Inc. said overnight it has decided against penalizing companies with multiple share classes -- like Naspers -- with reduced representation in its equity benchmarks.
Africa's largest company by value jumped as much as 9.7 percent, the most since December 2014, after MSCI said equities with unequal voting structures will continue to be eligible for inclusion in its indexes at their free float market capitalization weight.
Read more here about MSCI's decision
"Given how big Naspers is for the South African market, where many investors can't own Naspers's full weighting in the Top 40 Index because it is higher than their maximum holding allocation, many Naspers shareholders would be people who own it through emerging-market indexes," said Bright Khumalo, a portfolio manager at Vestact Asset Management in Johannesburg. "If they had to drop out of the index, it would be a big hit in the short run for the Naspers share price. That threat is now removed."
Naspers accounts for 16 percent of the benchmark FTSE/JSE Africa All Share Index, pushing the gauge as much as 3.6 percent higher Wednesday. The stock is 20 percent of the market's TOP40 Tradeable Index. Naspers was 8.4 percent higher as of 12:45 p.m.