Naspers Earnings Rise as Classifieds Unit Turns First Profit
(Bloomberg) -- Naspers Ltd. first-half earnings climbed 39 percent as Africa's largest company by market value made further progress in turning a profit at its myriad of internet businesses.
Core headline earnings were $1.7 billion. The classifieds business is now profitable, even when including Letgo -- which dragged that division down in the 2018 fiscal year. The online-retail unit narrowed losses.
Turning classifieds profitable could help Naspers stop being defined by its blockbuster early investment in Chinese internet giant Tencent Holdings Ltd. The Cape Town-based company's earnings are also based on the performance of several other online firms -- from Brazil to Russia and India.
Naspers is working on closing an almost $28 billion valuation gap between its market value and that of the 31 percent stake it owns in Tencent. To help achieve that, it's spinning off its pay-TV company in 2019 and may consider similar moves for other businesses.
Despite the valuation discrepancy, there is value in Naspers's other internet ventures, according to analysts at Barclays Plc. The classifieds companies are worth $10 billion, the food delivery businesses $3.5 billion and the online-payments firms $3 billion, they said in a note earlier this month.
Naspers shares have slumped 18 percent this year, tracking a 23 percent fall at Tencent. The stock traded 0.5 percent higher at 2,834.60 rand as of 3:27 p.m. in Johannesburg.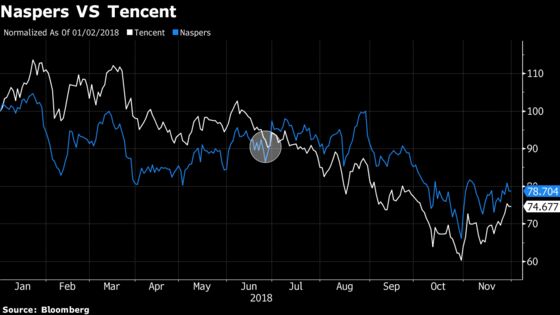 Read more about the earnings here.
Core headline earnings per share were $3.85, below an average estimate of $3.98. That was based on three analysts polled by Bloomberg.
"we will maintain our focus on driving profitability in the e-commerce units," the company said. "Our strong balance sheet provides a basis for driving growth across the portfolio and unlocking new opportunities that fit our criteria."