Nasdaq's Resilience Pushes Benchmark Dominance to 20-Year High
(Bloomberg) -- Major U.S. stock benchmarks have become unhinged from each other this year, and the gap between the Nasdaq 100 and Dow Jones Industrial Average continues to widen.
As investors deem technology and biotech companies winners in the wake of the coronavirus, the Nasdaq's resilience has been notable. The index is now up in 2020 and less than 5% from record highs. Meanwhile, the Dow is still lower by 15% this year, pushing the relative strength of the Nasdaq over the more archaic price-weighted gauge to the highest in two decades.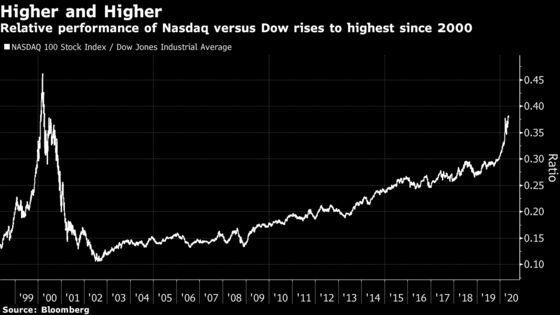 The Nasdaq 100 gained 0.6% as of 12 p.m. in New York Monday while the Dow Jones Industrial Average dropped 0.6%, marking the 10th session this quarter that the Nasdaq has outperformed the Dow by at least a full percentage point -- the most since 2009.
The strength of companies like Amazon.com Inc. and Regeneron Pharmaceuticals Inc. has made the Nasdaq the market's bulwark, at a time the average U.S. stock is down 18% and the trajectory of the economy remains rather unknown. Monday's outperformance came as Vertex Pharmaceuticals Inc. notched a fresh record, up 29% this year. Nvidia Corp. also rose to an all-time high, up 63% in eight weeks.
"People realize that information technology is one that even under work at home circumstances, in some senses, may be even more driven to success," said JJ Kinahan, the chief market strategist at TD Ameritrade. "Technology spending is probably one of the areas that companies are going to increase if they haven't already."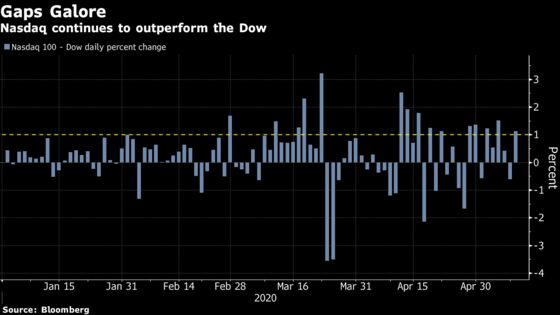 So forceful has the rally in the Nasdaq's components been that 95% of stocks in the gauge ended last week above their respective 50-day moving averages, the most since at least 2001, according to Frank Cappelleri, Instinet LLC.'s senior equity trader and market technician. But even though such an extreme reading points to a "stretched" market, history shows that most of the time "it hasn't been an all out death knell," he said.