Naked Wines Falls Most in 5 Years as Drinkers Flock Back to Bars
Naked Wines Plc shares tumbled the most in more than five years after the U.K. online wine merchant cut its forecast for the year, as drinkers returned to wineries and bars.
Wine drinkers have been seeking out "in-person experiences" after lockdown restrictions eased, the Norwich, England-based company said in a statement on Thursday, noting its surprise at the "speed at which the consumer and marketing environment changed," especially in the U.S. market. 
"Much of the country has embraced a chance to return to somewhat of 'life as normal,"' Naked Wines said, referring to the U.S. "In the wine category that has played out with traditional wineries reporting record revenues, boosted by extremely strong winery visitation rates."
The stock, which was a market darling amid pandemic restrictions last year, fell as much as 24%.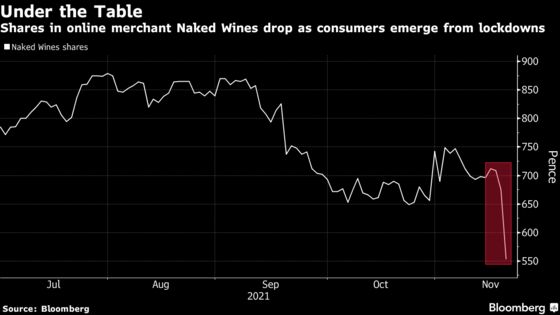 The company now sees revenue of 340 million pounds to 355 million pounds ($459 million to $479 million) for the fiscal year ending in March, compared with a previous forecast range of 355 million pounds to 375 million pounds.