Nafta's Economic Jolt Sends Canada Bond Yields to Decade High
(Bloomberg) -- Canada's two-year bond yield jumped to the highest in almost a decade and longer-term yields also soared on expectations a renewed North American free trade agreement will pave the way for additional rate increases by the Bank of Canada.
Yields on Canada's two-year note rose 8 basis points to 2.29 percent, the highest since October 2008, according to data compiled by Bloomberg. The 10-year yield also soared 8 basis points to 2.51 percent, the highest since May. Yields on the five-year note also jumped.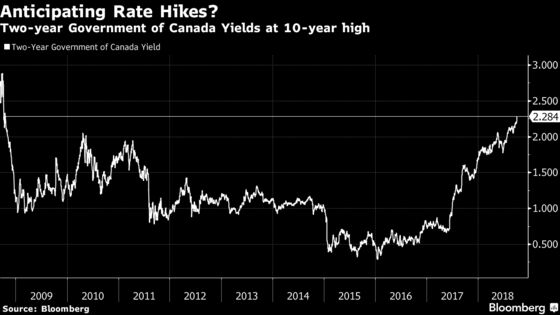 Governor Stephen Poloz has backed gradual rate increases this year because an economy running at about full output was also facing a drag on investment due to the uncertainty over trade negotiations. The Bank of Canada is expected to raise the benchmark rate from 1.5 percent at its next rate decision on Oct. 24, and again in January, based on trading in the swaps market.