Delta Forces New Zealand, Australia to Rethink Covid Strategies
(Bloomberg) -- The Covid-19 delta variant has forced Australia and New Zealand to review their strategies of eliminating infections of the virus, and prompted Australian Prime Minister Scott Morrison to say it's highly unlikely his country will ever return to zero cases.
Australia's focus needs to shift to hospitalization rates rather than case numbers, Morrison told ABC's Insiders program Sunday. The highly infectious nature of delta raised some "pretty big" questions about New Zealand's approach of eliminating the disease, Covid-19 Response Minister Chris Hipkins said in an interview on TVNZ. 
Both New Zealand and Australia have been advocates of the Covid Zero strategy since the beginning of the pandemic. Their tactics of closing borders and stopping cases of community transmission through strict restrictive measures prevented the waves of deaths seen in most other nations. The recent spread of the delta variant has challenged their strategies, with Australia on Sunday reporting its highest number of daily infections for a second straight day and New Zealand under the top level of lockdown.
"With a virus that can be infectious within 24 hours of someone getting it, that does change the game a bit," Hipkins said. "With our Level Four lockdown, we are very well placed to be able to run it to ground, but we have to be prepared for the fact that we can't do that every time there is one of these."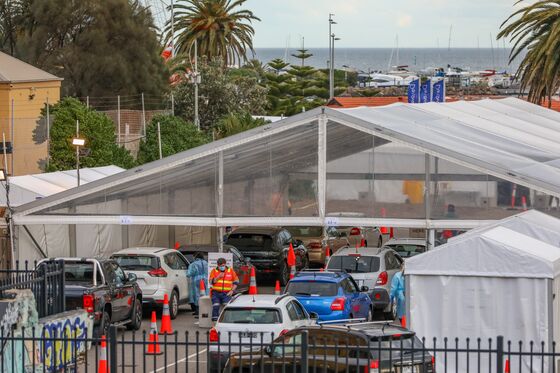 Hipkins said the system had worked well pre-delta, but it was now looking "less adequate and less robust."
New Zealand has been at the highest level of lockdown since Tuesday after a community case of coronavirus was discovered in Auckland. On Sunday, the country reported a further 21 local cases, bringing the total to 72.
Australia's Morrison said it was highly unlikely the country would return to being free of Covid infections. When vaccination rates reach the targets of 70% to 80% of the eligible population, curbs would begin to be lifted, the prime minister said.
"You can't live with lockdowns forever, and at some point you need to make that gear change," he said.
New South Wales reported 830 cases, up from 825 on Saturday, while three people died, according to the state government. Victoria reported 65 infections, according to a tweet from the state's health department, and the Australian Capital Territory had 19.  The national total rose to 914, surpassing the previous daily high of 894 on Saturday.
Writing in the Daily Telegraph newspaper, Morrison said rising cases "need not impact our plan to reopen, and reopen as soon we can."
"So while right now our national strategy is necessarily about suppressing the virus and vaccinating as many people as possible, a one-eyed focus on just case numbers overlooks the fact that less people are getting seriously ill, let alone dying."
New Zealand Prime Minister Jacinda Ardern on Aug. 12 laid out a plan to ease the country's virus curbs, saying the government will speed up its vaccine rollout this year and begin a phased reopening of the border in early 2022.