New York's First Female Governor Kathy Hochul Must Clean Up After Cuomo Fallout
(Bloomberg) -- When Kathy Hochul becomes New York's governor in two weeks, cleaning up after Andrew Cuomo will be only one of her newfound problems.
Hochul, the 62-year-old lieutenant governor, will take the top job after Cuomo announced his resignation Tuesday, saying harassment allegations against him prevent him from governing. New York and national politicians -- including President Joe Biden -- called on Cuomo to depart after a report by Attorney General Letitia James found he had sexually harassed 11 women.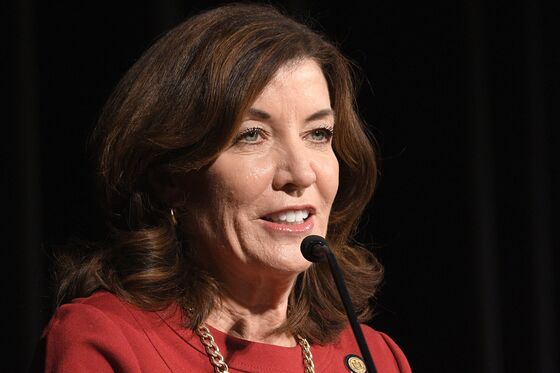 Hochul, who has served a long apprenticeship in Democratic state politics, will be interim executive until Cuomo's current term finishes in December 2022. Messages seeking an interview Tuesday weren't immediately returned. Hochul plans to hold a news conference in the governor's Manhattan office Wednesday afternoon.
Stepping into office post-scandal is a familiar role for Hochul, who in 2011 won a special election to the U.S. House after an extramarital affair felled her predecessor. But she also faces novel challenges: rising Covid cases, a sluggish economic recovery, budgetary crises and a state government battered by Cuomo's tumultuous final year as governor.
Her allies say she's ready. Since she entered politics four decades ago, Hochul has occupied town, county, state and federal offices. As lieutenant governor, she's also traveled to every county in New York to court local officials.
"Service in elected office is like training on the job. Once you get elected, you learn how to do your job better the more you do it," said State Assembly majority leader Crystal Peoples-Stokes, who represents Hochul's hometown of Buffalo. "For someone who's getting ready to be ushered into the position of governor, I think she comes more qualified than most."
Hochul was largely absent from Cuomo's starmaking pandemic press conferences last year. Now, she'll have to carve out her own approach to managing the response as cases rise and pockets of New Yorkers remain unvaccinated.
Cuomo said last week that local governments need to decide whether to reimplement indoor mask mandates, which New York City Mayor Bill de Blasio has resisted. Hochul will have a hard time going further -- the state legislature stripped the governor of the ability to issue directives without its approval.
Cuomo also mandated vaccines or weekly testing for more than 70,000 public employees, including Metropolitan Transportation Authority and Port Authority workers. Still, the overall pace of vaccination has slowed dramatically, and rolling averages of hospitalizations and deaths are climbing once again. To reverse those trends, Hochul will have to work with a state Department of Health that hollowed out during Cuomo's time in office.
Denis Nash, a professor of epidemiology at the City University of New York and former city health official, said Hochul will have to change course from Cuomo, who often relied more on private advisers and hospital executives than state health officials.
"Cuomo, rather arrogantly I think, thought that he could do it on his own with a lot of subject matter experts cobbled together with a lack of transparency," Nash said. "You need people at the state level who have the technical expertise, but also a clear understanding of how things work on the ground in counties and in the city."
He said Hochul should mandate vaccines for nursing-home workers and push lawmakers to reinstate the mask mandate, among other steps.
Even if political problems grab Hochul's focus, as schools reopen and small outbreaks inevitably occur, the pandemic "is going to come barreling down whether she has time for it or not," said Cornell epidemiologist Isaac Weisfuse.
Hochul will also oversee New York's economic recovery from the pandemic, distributing billions in federal aid and working with the state legislature to forestall a looming budget crisis. New York City's unemployment rate was nearly double the national average in June, but federal benefits will expire in coming weeks.
And while Hochul has largely avoided Cuomo's political controversies, they will now become her own. Cuomo's scandals -- over sexual harassment, a cover-up of nursing home deaths and his pandemic book deal -- have led to an exodus of top aides, meaning her first days may be spent crafting help-wanted postings.
Hochul isn't guaranteed a long stint in office. If she chooses to run for a full term next fall, she may face challenges from prominent New York Democrats like James, whose report precipitated Cuomo's downfall -- and Jumaane Williams, New York City's public advocate. Both rose to prominence in the city, a treasure-trove of votes for politicians seeking statewide office.
Peoples-Stokes said Hochul will hold her own in that race, too. Lacking city connections will be "a big challenge for her, but she's a tough cookie and I think she can handle it," she said.
New York Senate Majority Leader Andrea Stewart-Cousins in a statement said it is a "somber day" for New York but an opportunity to move forward.
"We will continue to address the Covid-19 pandemic, rebuild our economy and face our challenges standing together," she said. "Governor Hochul is a dedicated leader, and united, we will get the people's work done."