New Jersey Strains to Fend Off Covid Arriving From Afflicted States
(Bloomberg) -- Infections brought from other states helped drive New Jersey's Covid-19 transmission rate to the highest in 10 weeks, even as Northeastern governors try to prevent re-invasion by a virus that ravaged their citizens.
While case counts soar in the South and West, New York, New Jersey and Connecticut are desperate to protect themselves, requiring travelers from 16 states to quarantine themselves or risk punishment. In New Jersey, the new cases are "an early warning sign," Governor Phil Murphy said Monday.
"We need to be smarter. We need to work harder," Murphy said. "This thing is brutal."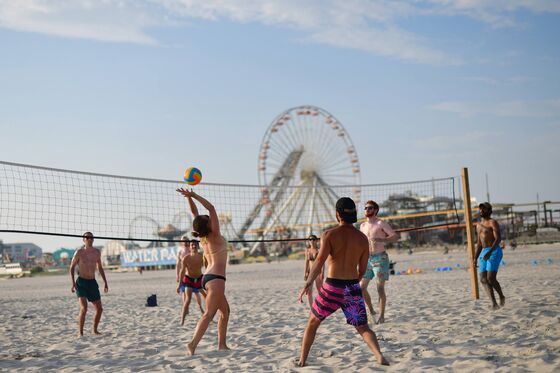 With President Donald Trump and his administration downplaying a pandemic that has killed more than 130,000 Americans amid a fitful federal response, states have largely been left on their own. After an initial economic lockdown, many with Republican governors hurried to reopen at Trump's urging, and now infections are skyrocketing in places like Florida, Texas and Arizona -- and the U.S. is an outlier among developed economies in its inability to contain the disease.
As many as 41 states have an R0 number above 1, according to the Rt.live website. That means each infected person infects at least one other, propagating the disease. Rt.live is a site created by the co-founders of Instagram and uses data derived from public health bodies.
On Monday, coronavirus cases in the U.S. increased 2% as compared with the same time Sunday to 2.91 million, according to data collected by Johns Hopkins University and Bloomberg News. That topped the average daily increase of 1.8% over the past week.
"We're still knee-deep in the first wave" of the pandemic, Anthony Fauci, the top U.S. infectious disease expert, said during a video conference Monday.
Fauci, director of the National Institute of Allergy and Infectious Diseases, said the "current situation is really not good" due to states opening in an uncoordinated way.
"Europe went up and came back down to baseline," Fauci said. "We went up, never came back to baseline, and now are surging back up."
On Monday, Florida's new cases reached 60,106 on a rolling seven-day basis, the highest ever. Miami-Dade Mayor Carlos Gimenez plans an emergency order to close restaurants, gyms and party venues, among other businesses. "We want to ensure that our hospitals continue to have the staffing necessary to save lives," Gimenez said.
In Texas, cases topped 200,000. Arizona cases increased by 3.4% to 101,441 -- still below the seven-day average of 4.1%. Most involve people under 44 years old, following a national trend of infections hitting a younger demographic.
Case counts have been on the rise as well in South Carolina, which is among the list of proscribed states in the Northeast -- and where many of New Jersey's new victims apparently picked up the disease.
New Jersey Health Commissioner Judith Persichilli said Monday that "several cases" in Sussex and Warren counties, in northern New Jersey, were traced to a June wedding in Myrtle Beach, South Carolina. In Hoboken, across the Hudson River from Manhattan, 12 of 13 new cases were tied to out-of-state travel.
Murphy said the outbreak demonstrated the need for travelers to self-quarantine after arriving from 16 states where cases have spiked.
"Follow the recommended 14-day quarantine period," Murphy said. The self-isolation, he said, can prevent "the start of an outbreak in your local communities."
He reminded residents that "face coverings are how we slow the spread of Covid-19," and said the state was considering an order to wear masks while outdoors.
New Jersey's measure of transmission, called Rt, stands at 1.03; a rate above 1 means the virus is spreading. With the state gradually reopening in the past few weeks, the rate had been slowly rising since it touched 0.62 on June 11. As the virus took hold in New Jersey in March, each virus-carrying person was passing it to at least five people.
New York Governor Andrew Cuomo said at a press briefing that Americans -- and New Yorkers -- are getting lax.
"The videos over the weekend from Fire Island, the East Village and elsewhere say it all — there is Covid fatigue," he said. "The virus doesn't get tired or lazy and we can't either."
Cuomo said Trump must tell the nation it's time to face the disease collectively, and addressed the president directly: "Do one simple thing: acknowledge to the American people that Covid exists, it is a major problem, it's going to continue until we admit it and each of us stands up to do our part."