New Jersey Boosts Two-Year Revenue Forecasts by $5.1 Billion
(Bloomberg) -- New Jersey expects revenue to be $5.1 billion higher than forecast over two fiscal years after "an April and May 'surprise' like none other," Treasurer Elizabeth Maher Muoio said.
Gross income tax, sales tax and corporation business tax revenues all are now projected to hit historic highs, Muoio said in remarks prepared for lawmakers on Wednesday. The state is raising its forecast for fiscal 2021 by $4 billion and for 2022 by $1.1 billion, she said.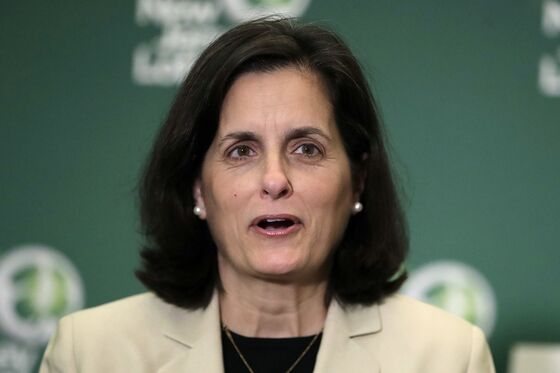 Governor Phil Murphy, a Democrat running for a second term in November, hasn't disclosed any plans for the unexpected cash. Alyana Alfaro, a Murphy spokesperson, said his office had no comment.
Other states also have seen such surges. California Governor Gavin Newsom last month reported a $76 billion surplus as a result of income-tax collections on the wealthiest residents, and the state will spend it on universal preschool, homeless assistance and the biggest tax rebate in state history.
Illinois, whose chronic fiscal shortfalls have left it with the lowest credit rating among U.S. states, in May increased its revenue forecast by $1.5 billion above its February projection after collections grew through April. New Jersey's credit is second-worst among state governments, driven by decades of underfunding the public pension system.
Connecticut, which expects $800 million left over for this fiscal year, in March won its first bond-rating upgrade in two decades. Texas, where officials five months ago had predicted a $1 billion deficit, now expects a $725 million surplus.
In May, President Joe Biden's administration started distributing $350 billion in aid to states and cities under the American Rescue Plan Act.
But amid nationwide fears of financial disaster, at least 29 states have met or exceeded pre-pandemic revenue -- enough in most places to cover collection dips related to Covid-19, according to a May 7 report by the Pew Charitable Trusts, a Philadelphia-based non-profit public-policy research group. New Jersey's windfall is aside from $3.7 billion in emergency borrowing to bridge what was expected to be a budget shortfall, plus $6.4 billion in federal pandemic relief.
"We have not only returned to pre-pandemic levels, but we have jumped past those levels," Muoio said. New Jersey, whose fiscal year starts on July 1, can have a difficult time predicting revenue because income taxes -- which provide the bulk of revenue -- aren't payable until relatively late in the budget process, in April.
Murphy, seeking to ease New Jersey's financial pressures related to past administrations' failure to make complete pension payments, has prioritized boosting the state's contributions. His almost $45 billion budget proposal for the fiscal year that starts on July 1 included $6.4 billion for the public pension, marking the first time in more than two decades that New Jersey would hit the actuarially required payment.