N.J. Gym Owners Arrested After Defying Governor's Covid Order
(Bloomberg) -- Two men were arrested Monday after police found their New Jersey gym open, the latest in their months-long series of challenges to Governor Phil Murphy's closing of such businesses to slow the spread of the coronavirus.
Ian Smith, 33, of Delanco and Frank Trumbetti, 51, of Williamstown each was charged with fourth-degree contempt, obstruction and violation of a disaster-control act. They could get fined as much as $1,000 and sentenced to six months in jail.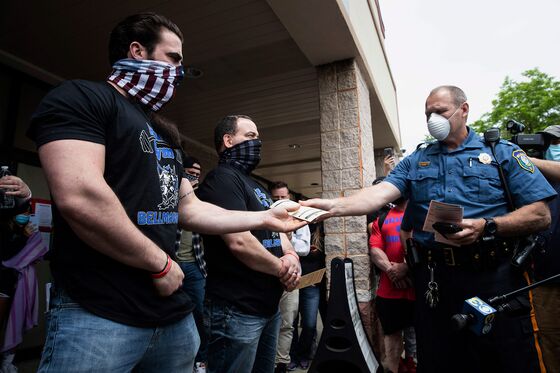 The men have become fixtures on Fox News, raising more than $100,000 for their legal defense by arguing that enthusiasts of bench presses and elliptical machines should be free from public health orders, and that Murphy's emergency measures are ravaging small businesses.
Murphy's approval has jumped during the pandemic, with polls showing broad support for his coronavirus steps even as unemployment hit a record high and the state faces an estimated $10.1 billion revenue shortfall through June 2021.
Smith and Trumbetti were arrested and released Monday morning "after continuing to operate their business, despite a judge issuing a contempt order against them on Friday," according to a statement from the office of Acting Camden County Prosecutor Jill S. Mayer. The ruling, by Superior Court Judge Robert Lougy, authorized local officials to block access to the business.
The gym, on its Facebook page, accused Murphy of "flexing his little tyrant muscles" and said arresting officers "boarded up our private place of business." Dan Bryan, a Murphy spokesman, declined to comment.
Murphy ordered gyms and other nonessential businesses to close March 21 as the virus was on its way to taking at least 15,000 lives to date in New Jersey. The governor since has allowed indoor one-on-one coaching and Pilates, martial arts and yoga classes, but typical gym operations remain banned with no clear return date.
The owners of the gym, which is in the Philadelphia suburb of Bellmawr, have argued that Murphy is damaging small-business owners' livelihoods. Against Murphy's order, they've continued to operate, screening members for symptoms and requiring masks and social distancing while collecting dozens of summonses carrying potentially thousands of dollars in fines. Padlocked once in May, the gym reopened days later.