N.J. Governor In Quarantine; Family Member Has Covid
(Bloomberg) -- New Jersey Governor Phil Murphy said Wednesday that despite receiving a negative coronavirus test, he would quarantine after a family member tested positive for Covid-19.
Murphy said in a Wednesday briefing that he was canceling all in-person events. He declined to identify the relative, but said the person lived in his home and wasn't his wife, who also tested negative. The governor and his wife have four children.
The exposure likely was in the past week, Murphy said, and at a small gathering, rather than "in any big-room settings with lots of people on top of each other."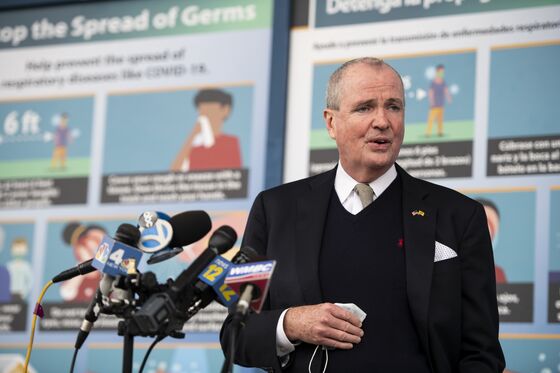 "After careful review, the Governor does not qualify as an exposed close contact," said communications director Mahen Gunaratna in an earlier statement.
This is the second time that Murphy has quarantined; the first period was in October after a senior staffer tested positive. The governor, a 63-year-old Democrat who is running for re-election, underwent successful kidney cancer surgery last March. That could make him eligible for vaccination before the general public, but he said he hasn't "changed my opinion" on waiting his turn.
"At some point, sooner than later, people in my category will be up to bat," he said.
Murphy said New Jersey expects to get a new batch of vaccine doses on Thursday and Friday. National pharmacy chain CVS Health Corp. will get 19,900 doses and Rite Aid Corp. will get 7,500 doses, administering the shots at 90 locations in all.
"These are certainly welcome doses in addition to the state doses," Murphy said. "They will not dip into or otherwise impact our state allocation." The governor said residents should visit the phamacies' websites for a list of locations.
New Jersey receives about 135,000 to 150,000 doses each week. Murphy, a Democrat running for re-election, wants 4.7 million New Jerseyans vaccinated by late June. Nearly 10% of the population have received at least one shot, according to the Bloomberg Vaccine Tracker.
Right now, all of New Jersey's appointments are full, according to Health Commissioner Judy Persichilli. "Even with the increases, the demand for appointments is greater than supply available," she said.
New Jersey had to temporarily close its call center for vaccine information and shot-scheduling to allow operators to receive more training, she said. "The system has had its issues and we're talking to Microsoft, the vendor, every day" she said.