Mystery Sell-Off in IT Stock May Have Been Due to Ticker Mixup
(Bloomberg) -- Small-cap IT stock NIC Inc. may have been the victim of mistaken identity.
Shares of the government-services contractor fell almost 10 percent on Monday on more than six times the average trading volume for no apparent reason. Barrington Research analyst Gary Prestopino says the decline may have been the result of some traders confusing the company, whose ticker symbol is EGOV, with Government Properties Income Trust, which trades under the ticker GOV. The latter fell 25 percent on Monday after announcing plans to acquire Select Income REIT in an all-stock transaction.
"We believe EGOV may have gotten caught up with this inadvertently due to the similarities in ticker symbols," said Prestopino. "Once heavy trading began, the algorithms may have kicked in and pushed the stock price lower."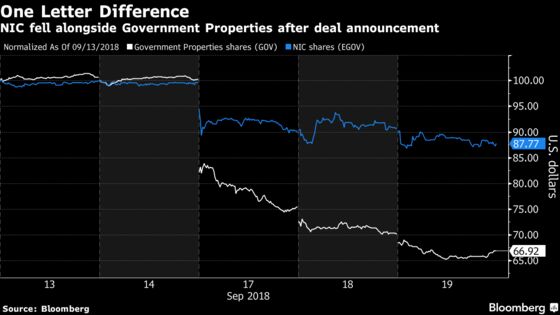 This wouldn't be the first time a similar name has caused confusion on Wall Street. After social-media mogul Snap Inc. filed for a $3 billion initial public offering in 2017, a little-known startup called SNAP Interactive Inc. jumped 164 percent over four days. And before Appell Petroleum Corp. was delisted, the stock whose ticker was APPL was occasionally mistaken for Apple Inc.