Mystery Anadarko Investors Accused of Insider Trading by SEC
(Bloomberg) -- The U.S. Securities and Exchange Commission obtained an asset freeze tied to shares in Anadarko Petroleum Corp. after one or more unknown investors allegedly made illegal trades ahead of Chevron Corp.'s takeover bid earlier this month.
The mystery traders bought Anadarko options from Feb. 8 to April 1, before the company's shares jumped 32 percent on news of Chevron's offer, according to a Monday order from Judge Gregory H. Woods. Two days after Chevron sent a letter to Anadarko in February about a takeover, the mystery traders started buying out-of-the-money call options eventually making $2.5 million from the illicit trading, the SEC said.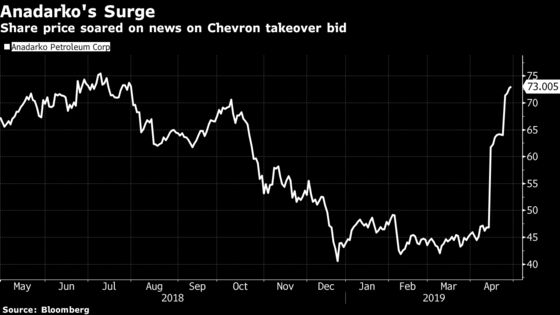 The traders placed their bets through brokerages in Cyprus and the U.K. The SEC is seeking to identify the traders and impose monetary penalties.
After Chevron disclosed its offer on April 12, Occidental Petroleum Corp. came out with its own bid for the Woodlands, Texas-based Anadarko last week. Anadarko, which isn't a defendant in the SEC case, plans to hold talks with Occidental after the target company's board of directors determined the bid could result in a superior proposal.