Greece Braces for Tourism Hit From No-Deal Brexit
(Bloomberg) -- Greece is getting ready for a no-deal Brexit, focusing on measures that will allow Britons to continue to visit and live in the country as they currently do.
With visitors from the U.K. being the second biggest source of tourism income, the country's most important industry, the stakes couldn't be higher for the Mediterranean nation. A sudden disruption in the flow of some 3 million Britons who visit Greek islands every year could be a shock to a sector that accounts for about a sixth of Greece's annual economic output.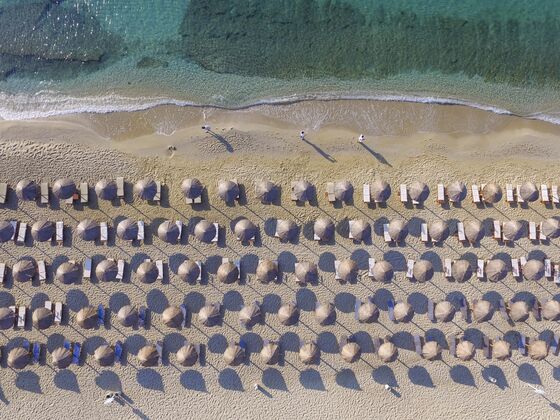 Prime Minister Theresa May is trying to renegotiate Brexit terms, a move the European Union says is out of the question, and the risks of the U.K. crashing out of the bloc without a deal have risen. Governments across the region are putting in place measures to deal with such a contingency.
The Greek government is preparing draft bills and presidential degrees that will be needed in case of a so-called hard Brexit, a foreign ministry official said. There has been no official statement from the government of Prime Minister Alexis Tsipras on the preparations since its working assumption is that a deal will be struck between the two sides.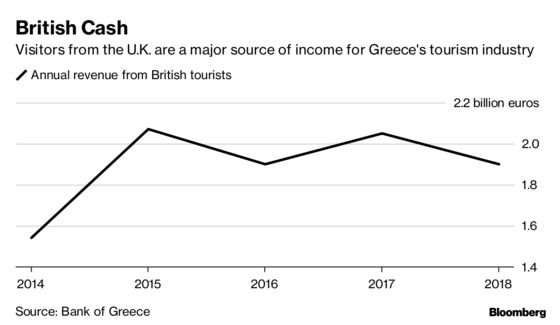 With its planned Brexit measures, Greece is keen to protect a key part of its economy. Visitors from the U.K. accounted for more than 14 percent of the country's tourism income in the January to November period in 2017. That slipped last year by 6.2 percent to 1.9 billion euros ($2.18 billion), according to Bank of Greece data. The number of British visitors fell by 1.7 percent to 2.9 million people.
The government wants to ensure that the numbers don't slide further in case of a no-deal Brexit. To this end, among the measures Greece is considering is to maintain the visa-free status for people coming from the U.K. Also, Greece will probably retain the status of U.K. citizens living in the country and not treat them as so-called citizens from third countries, or people from non-EU countries, the official said.