Elon Musk Starts Decade With a $13.5 Billion Gain, Better Than Jeff Bezos
(Bloomberg) -- Jeff Bezos is still the world's richest person by a comfortable margin, thanks to Amazon.com Inc.'s January surge that added $9 billion to his net worth.
But no one, not even Bezos, is having as good a start to the decade as Tesla Inc. Chief Executive Officer Elon Musk.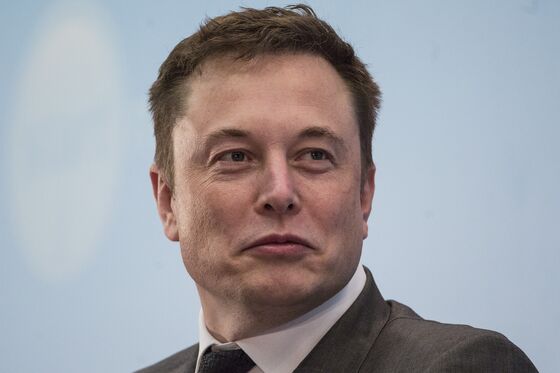 On Monday, shares of the electric-vehicle maker surged 20% to a record $780, the biggest one-day gain since 2013. Tesla shares have climbed 86% in less than five weeks, boosting Musk's fortune by $13.5 billion, the most of anyone on the Bloomberg Billionaires Index.
After starting 2020 as the world's 35th-richest person, he's now No. 22 with a $41 billion net worth, leapfrogging tech titan Michael Dell, casino magnate Sheldon Adelson, Nike Inc. co-founder Phil Knight and several others.
Panasonic Corp., which makes batteries for Tesla, said early Monday that the business turned profitable in the last quarter of 2019, triggering Tesla's latest jump.
Musk, 48, owns about a fifth of Tesla's outstanding stock, which comprises the bulk of his fortune. His majority ownership of closely held Space Exploration Technologies Corp. accounts for about $14.6 billion.
Tesla has been on a roll since October, and last month its market value eclipsed $100 billion -- a threshold it must maintain for an extended period for Musk to unlock the first chunk of his massive compensation package. By Monday's close, Tesla's market capitalization had reached $140.6 billion, less than $10 billion from a second pay hurdle.
If Musk, 48, manages to hit all performance targets, which tops out with Tesla's market value more than quadrupling from where it is now, he could collect more than $50 billion. In the meantime, he gets no salary.
The start of the year has been rockier for Bernard Arnault, the chairman of luxury-goods maker LVMH. His net worth has tumbled $7.8 billion, the most of anyone on Bloomberg's 500-member ranking. He remains the world's third-richest person with a $97.4 billion fortune.