Murphy to Beg, Borrow With Pledge of Billions for N.J. Pensions
(Bloomberg) -- In the aftermath of the new coronavirus, New Jersey's finances have been a blur of uncertainty, save for Governor Phil Murphy's commitment to make record payments to the state's 800,000-member public pension system.
Beyond that, Murphy is counting on an undisclosed amount of borrowing and cash from the federal government to make up for $10.1 billion in lost revenue. Any spending adjustments or tax increases will be disclosed Friday, the deadline for his treasurer to present revised spending plans to the legislature.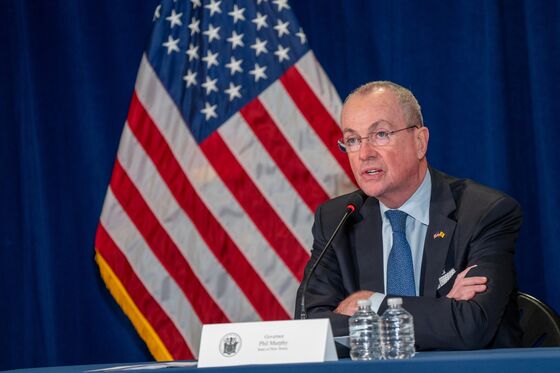 "It's not pretty," Murphy said on Thursday of the updated budget, without being specific. "That's the reason we have to borrow money, unfortunately. It's also the reason we need direct federal cash assistance."
Murphy's commitment to a $3.8 billion payment this fiscal year to the pension fund, the worst-funded among U.S. state governments, puts him on track to be the first New Jersey governor since the mid-1990s to make all promised contributions. It also has him depending partly on long-term borrowing to fill budget gaps in a state that has a constitutional ban on such maneuvers.
The practice is frowned upon within public finance, and may pose a downgrade risk to a credit rating that's second-worst, behind Illinois, among U.S. states.
"He's talking about creating a longer-term liability to take care of an operating budget, which is a cardinal sin within budgeting," said Howard Cure, managing director for municipal bond research at Evercore Wealth Management, which holds New Jersey debt and has $8.3 billion of assets under management.
California, New York and Pennsylvania are slashing budgets, just as more than half of U.S. states -- including New Jersey -- did a decade ago, during the Great Recession. In New Jersey, a bipartisan group of lawmakers has approved a public-worker furlough plan with potentially hundreds of millions of dollars in savings.
But Murphy has criticized the measure, saying "we don't need to be raising the unemployment ranks" with more than 1 million people -- one in nine New Jerseyans -- newly out of work and collecting benefits.
The state lost 757,700 jobs in April, said Robert Asaro-Angelo, the state labor commissioner, and the jobless rate reached 15.3%, higher than the 14.7% national figure. From March 20-May 16, the state has paid $3.4 billion in unemployment benefits.
In the face of such numbers, Murphy named pensions as a priority. "We will make the quarterly -- we'll make the pension payments," he said on May 14.
That commitment earns the governor praise from Communication Workers of America, the state's largest public-employees union, whose endorsement and political-action committee contributions helped elect Murphy, a former Goldman Sachs Group Inc. director, in November 2017. The pension system had just 39.7% of assets needed to cover liabilities through June 2019, compared with 38.4% a year earlier, according to a state audit.
"These are the pensions that hundreds of thousands of people depend on," Hetty Rosenstein, the union's state director, said in an interview. "We put them last for 25 years."
Senate President Stephen Sweeney, New Jersey's highest-ranking state lawmaker, said in a May 20 interview that Murphy has no choice but to make the pension payments because ratings agencies will impose an "automatic downgrade if he doesn't." Amid the economic crunch, now is the time to make cost-saving changes to the pension system that Murphy has resisted, said Sweeney, his fellow Democrat.
At the same time, Murphy's plan for borrowing is "going to be an automatic downgrading, too," Sweeney said. Plus, it's backed by collections from taxes that have tanked in recent weeks.
The governor is faced with "not good choices," Sweeney said.
Murphy had started to build a surplus -- the state's first in more than a decade -- and committed to record pension payments when the virus struck. New Jersey trails only New York as the state hardest-hit by the virus, with 10,843 deaths and 151,472 cases through Thursday.
Murphy on March 21 closed nonessential businesses and ordered social distancing -- a life-saving step, he says, that also sent tax revenue "falling off the cliff." Days later, he froze $920 million in spending, including municipal aid and property-taxpayer relief, citing the virus's "unpredictable and rapidly changing" economic effects.
In April, Murphy's administration proposed the New Jersey Covid-19 Emergency Bond Act to authorize $5 billion in general-obligation bonds, and to access unspecified amounts from short-term notes and the U.S. Federal Reserve's new $500 billion Municipal Liquidity Facility.
"Absent the borrowing permitted by the bond act, the state will experience a cash-flow low point in July and a very stressed liquidity position in late August due to the economic impact of the Covid-19 pandemic," state Treasurer Elizabeth Muoio wrote in an April 17 bond disclosure statement.
In a May 13 statement, Muoio disclosed a projected $10.1 billion revenue shortfall. For 2020, revenues of $36.7 billion were expected to be $2.75 billion short, about 7% less than anticipated. For 2021, the state now expected $33.8 billion in revenues, for a $7.34 billion gap, or 18%.
The next day at a Trenton press briefing, Murphy said the only alternative to borrowing was "enormous cutting of services and headcount from the very people we need at the point of attack right now, in the biggest health-care crisis in the history of our state and country."
The last time the state was in the grip of a national fiscal crisis was the Great Recession. Midway through fiscal 2009, then-Governor Jon Corzine, a Democrat and former Goldman Sachs senior partner, proposed $800 million in spending cuts; public-worker pay freezes; and reductions in pension payments and municipal and school aid.
David Rousseau, Corzine's treasurer, commended Murphy's commitment to the pensions -- but said he personally "would have pushed for freezing the March and June pension payments to give more flexibility and liquidity." And he would have considered cutting Murphy's planned $4.6 billion payment for next year to fend off budget reductions and new debt, he said.
Delaying or reducing the pension payment would alleviate the need for borrowing, which may be challenged by lawmakers. Murphy has also proposed issuing general obligation bonds, despite a constitutional requirement that voters must approve such borrowing unless there's "an emergency caused by disaster or act of God."
The nonpartisan Office of Legislative Services has said that borrowing without voter approval to cover Covid-19 costs is permissible, but it can't be used to supplement revenue.
Murphy is relying too much on borrowing, said Regina Egea, who was former Republican Governor Chris Christie's chief of staff and now heads the Garden State Initiative, an affiliate of the State Policy Network, a non-profit group that advocates for conservative economic practices.
"We had spending problems that were not helpful for the New Jersey economy or the cost of living in the state," Egea, referring to Murphy's fiscal priorities, said in an interview. "More borrowing and avoiding that problem longer just makes everything worse."
Christie, who had promised to rely more on "pay-as-you-go" spending for the state's Transportation Trust Fund highway-improvements account, instead borrowed $6.6 billion, 100 times more than the cash he put into it, from 2011 to 2016. The state's lackluster economy, high debt and skipped or reduced pension payments all contributed to a record 11 credit downgrades by the three major ratings companies during Christie's eight years in office.
Murphy on April 21 saw his first downgrade, by Fitch Ratings, to A-, seventh-highest, with a negative outlook, matching the levels and outlooks assigned by S&P Global Ratings and Moody's Investors Service. If revenue doesn't match Murphy's planned borrowing repayments, the governor has pledged to raise property and sales taxes.
"It's a tough environment to raise taxes," said Cure, the Evercore managing director. Atop the nation's highest property levies, New Jersey residents are subject to the $10,000 limit on the state and local taxes they can apply against federal taxes.
Funding pensions is going to be hard for Murphy as the state potentially faces economic recession, Cure said.
"Investors were skeptical about New Jersey fully funding the pensions during good times," Cure said. "This obviously makes it much more difficult. He's really just replacing potentially one liability with another."