N.J., N.Y. Urge Residents to Stay Put With Peak Approaching
(Bloomberg) -- New York and New Jersey governors urged residents to adhere to social-distancing orders amid signs of approaching peaks of the coronavirus outbreak in their states.
New Jersey, which trails New York with the second-highest number of infections in the U.S., expects cases to peak in two to three days, the state's health commissioner said on Thursday. New York Governor Andrew Cuomo was more cautious in his comments, though five days ago, he said the apex could come in four to eight days.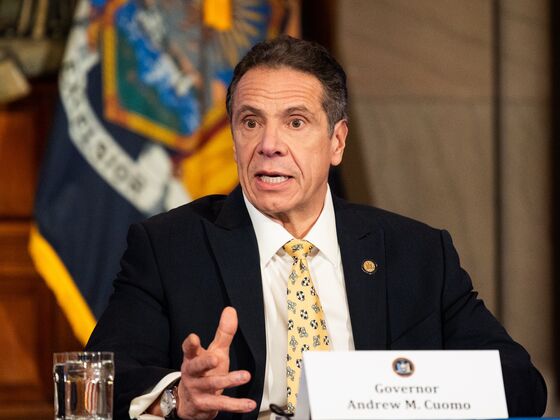 Cuomo and New Jersey Governor Phil Murphy warned that the improving numbers could take a turn if residents disregard stay-at-home orders. Their pleas came on the approach of a long weekend of Passover and Easter celebrations by Jewish and Christian faithful, and Murphy urged residents to mark their observances without the traditional gathering.
"It we stop acting the way we're acting, you will see these numbers go up," Cuomo said at a press briefing. "It is essential that we keep that curve flattened because we don't have an option of handling the curve if it goes higher."
Combined, about 8,700 people have died from Covid-19 in the two states, more than half of U.S. deaths.
In New York, the growth rate of hospitalizations is dropping. At the same time, the pace of cases is moderating, while the death rate is worsening by the day. Cuomo said there had been only 200 net new hospitalizations over 24 hours, the lowest number since the crisis broke out. That number had been as high as 1,400 just a week ago. Likewise, the rate of new intensive-care admissions and intubations -- when patients are put on a ventilator -- also plummeted.
But New York also reported more than 10,600 new positive cases, a second day above 10,000 after multiple days when the number was trending downward. At more than 159,000 infections, New York's cases have now eclipsed those of Spain and Italy. It's unknown how many people have been infected but never tested.
About 18,000 people in the state are hospitalized for the virus. If New York is indeed reaching a plateau, the statistics suggest that the state will need far less hospital capacity than it raced to build at the onset of the crisis.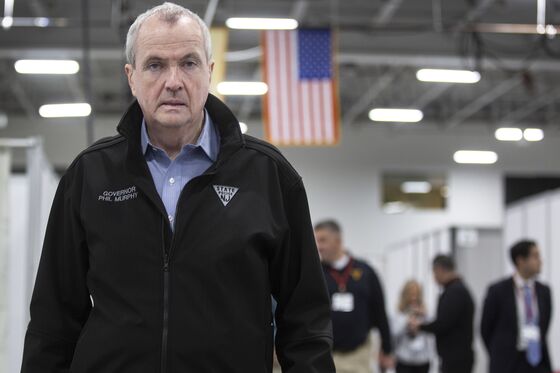 New Jersey, which is tracking New York in the pace of infections, saw cases rise 8% on Thursday to 51,027, the fifth-straight day of increases of 10% or less. It reported another 198 deaths, less than the previous two days' totals.
At its high point, New Jersey expects 14,400 residents to be hospitalized from Covid-19 and as many as 1,880 patients in intensive care, Health Commissioner Judy Persichilli said at a press briefing. Her information came from a model updated on April 8, she said.
Cuomo hasn't embraced a specific peak date. On April 4, Cuomo said the apex could come in four to eight days, depending on which model was cited, and warned: "Nobody could give you a specific number."
New Jersey has at least 7,363 people hospitalized, and 1,523 in ICU. In all, 1,700 New Jerseyans have died, more than double the number of New Jersey residents who died in the Sept. 11 terrorist attacks. But Murphy pointed to signs that the infection rate is abating, which he called the result of his March 21 order for non-essential businesses to close and residents to remain indoors and away from one another.
Last week, cases in numerous counties were doubling every three days. Murphy on Thursday pointed to a current map showing no counties with that high rate.
"Our social distancing is, in fact, beginning" to slow the spread rate, Murphy said.
Among those diagnosed was Murphy's chief counsel, Matt Platkin, who has written executive orders to slow the virus and mitigate its effects. Platkin, whom the governor said unknowingly had contact with people who later tested positive, remains asymptomatic. New Jersey has tested only those with fevers or other signs of illness, but Murphy said Platkin was an exception because he is a key aide shaping crucial public policy.
"We need this guy," said Murphy, adding that he and Platkin, who is working at home, had spoken four times on the phone in the morning. The governor, 62, recovering from surgery in March to remove a cancerous tumor from his kidney, said he's maintained distance from his staff, wears a mask and follows other protocols. He said he has no virus symptoms and hasn't been tested.
Murphy said he was signing an order requiring 60-day payment grace periods for health and dental insurance policies, and 90 days for home, auto, renters, life and other coverage. Back payments must be spread out rather than paid in a lump sum when the grace period is up, he said.
Murphy said he stood by his April 7 decision to close state and county parks even as some lawmakers were critical.
"In the first good weather weekend of the Spring the evidence from state park police and other observations up and down the state was unequivocally an enormously close proximity of people both at state parks and county parks," Murphy said. Cars in parking lots had New Jersey and out-of-state license plates, he said.
"We did this because of congregations," he said.