Mueller Leaves Door to Cooperation Ajar With Stone Charges
(Bloomberg) -- Roger Stone has sworn he would never flip on President Donald Trump. But so did Paul Manafort, Trump's onetime campaign manager, and Michael Cohen, his personal lawyer and fixer, who ultimately agreed to cooperate with Special Counsel Robert Mueller.
Like those before him, Stone is now looking at serious prison time, having been charged with obstruction of justice and witness intimidation. Mueller's playbook has been to level a relatively narrow set of charges in hopes of wringing cooperation agreements from reluctant parties, ratcheting up pressure as needed with additional charges.
Will it all prove too much for the career political operative and longtime Trump friend? Mueller has already shown he knows more about Stone than he revealed in the 24-page indictment unsealed Friday. Now comes Stone's forced opportunity to cooperate in a late bid for leniency.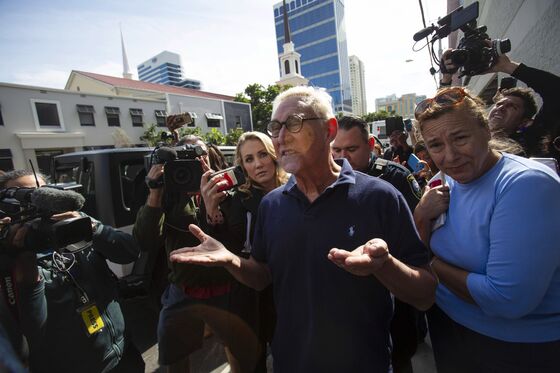 What might he provide? Many clues were in the indictment. Prosecutors say someone directed a senior Trump campaign official to contact Stone about releasing emails that would embarrass Hillary Clinton. Who was it? On that point, Mueller likely knows more than he's revealed but could use Stone to bolster the point.
Prosecutors also refer to senior campaign officials who were aware of efforts to publicize the emails, which Mueller has said were purloined by Russian state hackers, in the summer and fall of 2016. They say Stone was an important node between the campaign and the organization that distributed the emails, Wikileaks, and might say more about who was involved in communications.
Given persistent rumblings that Mueller may soon compile the results of his Russian election investigation, Stone's window could be limited. On Friday, Democratic lawmakers pounced on Stone for lying to them and demanded clear answers to what the Trump campaign knew about emails stolen by Kremlin agents.
"A senior campaign official was 'directed' in July 2016 to contact Mr. Stone about additional Wikileaks releases. Our committee will be eager to learn just who" that was, said Democratic Representative Adam Schiff of California, the chairman of the House intelligence committee.
Schiff's comments and the indictment, peppered with details of Stone's communications with members of the Trump campaign, serve as a warning to that senior campaign official and others. They have been quite publicly notified that Mueller has information about their interactions with Stone.
It's not clear if they have already assisted the special counsel's office or if they are in his sights. Peter Carr, spokesman for Mueller's office, declined to comment. Alex Spiro, a New York lawyer who represents some unidentified witnesses in the Mueller probe, declined to comment as well.
Stone's aversion to flipping is well known to Mueller's team, who pointed out that Stone used a "Godfather" reference in imploring an associate to keep quiet. True to form, Stone left a Florida federal courthouse after his appearance on Friday with a vow not to testify against Trump.
But prison time is unpalatable for anyone, let alone a 66-year-old political operative with a taste for loud fashion. Stone was rousted from his well-appointed Florida home by more than two dozen FBI agents, and can return there, or to his Manhattan home, for now while he's out on bail.
If Mueller is indeed pressuring Stone with an initial set of charges to secure cooperation, he'd be following a battle-tested strategy for corporate and organized crime prosecutions. Mueller needs Stone and others like him to overcome one obstacle. Trump's inner circle is dominated by family members, and Justice Department practice is not to pressure family members to flip against each other.
Though Stone was hit with seven counts of false statements, obstruction and witness intimidation, it's notable what wasn't mentioned. There were no charges related to collaborating with an outside party to influence the 2016 election. Stone says he has done nothing criminal. In indictments of others, however, Mueller has described evidence pointing to Stone's involvement in an effort to weaponize stolen emails against the Clinton campaign.
Mueller's targets have frequently seen charges multiply. By accusing Manafort and his onetime deputy, Rick Gates, of crimes that preceded their involvement with the Trump campaign, Mueller demonstrated in 2017 that he was willing to go after wrongful conduct from the past to get his targets to talk. Gates buckled first. Then Manafort, once he was convicted of bank fraud, tax fraud and failing to disclose a foreign bank account. After agreeing to cooperate, Manafort brought on the wrath of Mueller by continuing to lie, prosecutors say -- an accusation working its way through the courtroom of Amy Berman Jackson, who'll now preside over Stone's case as well.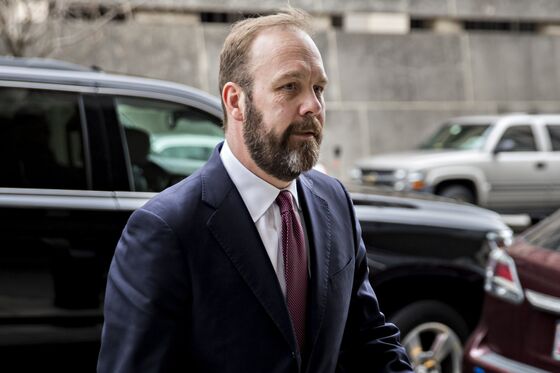 Mueller's office apparently has more details on Stone. Last summer the special counsel indicted 12 Russians, members of a military intelligence unit, on charges of hacking the emails of Clinton campaign officials and hiding behind a fictitious persona dubbed Guccifer 2.0. The indictment says Guccifer 2.0 reached out and corresponded with "a person who was in regular contact with senior members of the presidential campaign of Donald J. Trump." Stone acknowledged that he was most likely that individual.
There may be a thick file on Stone's past, too. Stone told an interviewer last September that Mueller interviewed at least 14 of his current or former associates and collected his financial records, presumably including tax returns.
Stone's lawyer, Grant Smith, said his client was innocent and would fight.
"The only reason Mr. Stone was charged is his 40-year friendship with the president and his efforts to defeat the person who was anointed by the establishment," Grant said. "Mr. Stone has been completely candid about this entire matter and will vigorously defend himself against the charges."