MTN Revamps Board With a Who's Who of African Heavyweights
(Bloomberg) -- MTN Group Ltd. appointed former South Africa Deputy Finance Minister Mcebisi Jonas as chairman and Nigeria's ex-central bank Governor Lamido Sanusi as a non-executive director as part of boardroom shake up at Africa's biggest wireless carrier.
Jonas, 59, will replace Phuthuma Nhleko, who plans to step down in December after almost two decades as chairman or chief executive officer of the Johannesburg-based company. The ex-lawmaker has taken on more corporate roles since being removed by then-President Jacob Zuma in 2017, and was made a non-executive director at MTN last year.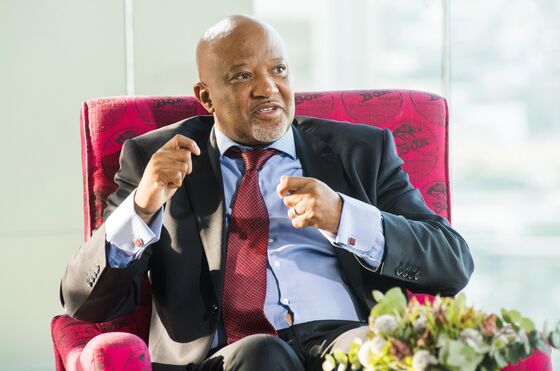 He has also been appointed an investment envoy for Cyril Ramaphosa, who replaced Zuma in February of last year and is seeking to attract more international funds to the country.
"Jonas is the right man to replace a figure such as Nhleko after so many years," said Ron Klipin, an analyst at Cratos Wealth. He has "expertise and will be the man to negotiate and strategize."
The appointment of Sanusi, 57, comes as MTN prepares to list its local Nigerian unit on the Lagos stock exchange, a condition of the settlement of a $1 billion regulatory three years ago. The business is the largest of MTN's 20-market portfolio, accounting for almost a quarter of all subscribers, and has been hampered by a series of government and local authority disputes that have hurt the company's share price.
Sanusi is now the Emir of Kano, a high-ranking position in Africa's most populous nation and biggest crude producer.
MTN shares traded 1.6 percent higher at 105.10 rand as of 4:26 p.m. in Johannesburg. The stock has gained 16 percent since CEO Rob Shuter announced a 15 billion-rand disposal plan in March, which included the carrier's Botswana business.
MTN also announced a separate board of prominent people to advise on broader African issues. The group will be headed by former South African President Thabo Mbeki and includes John Kufuor, ex-leader of Ghana.
Nhleko will also be a member of that committee. The 59-year-old joined MTN as chairman in 2001, becoming CEO for nine years from the following year. He held both roles during negotiations of the $1 billion Nigeria fine, which was originally set at $5.2 billion as a penalty for missing a deadline to disconnect unregistered subscribers.
Nhleko reverted to chairman after the appointment of Shuter, who started in 2017.
Jonas is also known for reporting that a member of the Gupta family offered him 600 million rand ($41 million) to take the top finance ministry job and threatened to kill him if he spoke of it. The Guptas are at the heart of an ongoing probe into the plundering of state funds by outside interests under Zuma's leadership, and deny wrongdoing.