MSCI Spooks Argentine Investors With Statement on Index Placements
(Bloomberg) -- Hold everything!
Argentine stock investors were riled up late Tuesday after a statement by index provider MSCI Inc said it was keeping the country in its Frontier Emerging Markets index.
The index provider said it will temporarily keep Argentina in the Frontier Emerging Markets index (FEM), and will revisit that decision in August. That's a different index from both the Frontier index (where Argentina has been stuck for years) and the Emerging Markets index, where it will be upgraded effective this May.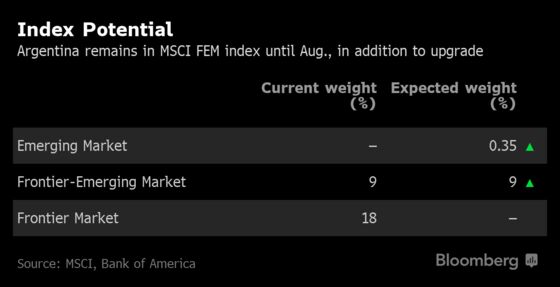 MSCI's latest statement didn't refer to the upgrade from frontier to EM status, ringing alarm bells for stock investors who were immediately concerned it might jeopardize Argentina's long-awaited upgrade.
"We think the market's initial read through was that Argentina['s] formal reclassification to EM was going to be postponed till August, but this is not the right interpretation," Santiago Wesenack, head of equity research at local broker AR Partners, wrote in a note. The S&P Merval Index fell the most in a month Tuesday, which may have been a "response to related speculations during the trading session," he added.
Argentine stock investors, who were burned last year by a 50 percent collapse in stocks when measured in U.S. dollars, are holding out hope that stocks will rally once the index upgrade is effective come May. Investors are also bracing for greater volatility ahead of President Mauricio Macri seeking a second term in elections set for October.
The announcement itself is actually good news, says Bank of America Merrill Lynch, which expects Argentina's stocks could receive $1.4 billion in passive inflows from the upgrade.
"We view this announcement as positive as Argentina will now be part of both EM (starting May-2019) and remain in the FEM index, limiting potential outflows from its removal," Bank of America analysts led by Nicole Inui wrote in a note.
In its statement, MSCI said its reasoning for keeping Argentina in the FEM index was the "significant currency devaluation" last year, even though its usual threshold for the decision is gross national income.
MSCI representatives weren't immediately available for further comment.