Movie Theaters in Asia Are Thriving Despite Covid, Imax CEO Says
(Bloomberg) -- While the U.S. box office continues to suffer under the heel of the pandemic, theaters on the other side of the Pacific are attracting customers in droves.
In Japan, a record number of people saw movies in Imax Corp. theaters over the weekend, according to Chief Executive Officer Rich Gelfond. In China, December ticket sales at the company's big-screen theaters jumped 28% from a year earlier, when few people had heard of the novel coronavirus.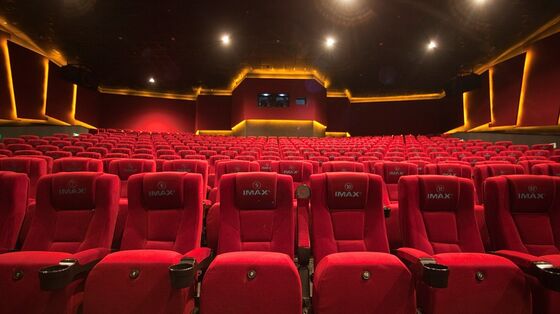 The recovery in demand is one of the few positive signals for Hollywood studios, which saw box-office revenue plummet in 2020 with most U.S. theaters closed and the release of practically all new blockbusters delayed. The industry is now planning its return to semi-normal business in April, hoping customers who have been glued to streaming services for a year will return to theaters after vaccines have been distributed.
"You hear narratives in North America: 'Are movies coming back? What's going to happen?' And the answer is an unqualified yes," Gelfond said on Bloomberg Television. "The vaccine is on the way, and hopefully after the vaccine hits a certain critical mass the theaters will reopen and the people will come."
Two Asian films have driven sales in Chinese and Japanese theaters over the past few weeks. "Demon Slayer," a Japanese film based on a graphic novel, has become that country's highest-grossing film after more than two months in theaters. In China, domestically produced movies including "Shock Wave 2" lured in audiences last month.
Hollywood movies haven't performed as well in the region. "Wonder Woman 1984," the $200 million DC Comics film released on Christmas Day, only sold $25 million worth of tickets in China as of Sunday. Meanwhile, locally made movies helped drive box-office sales to a record 545 million yuan ($84 million) on New Year's Day, according to ticketing platform Maoyan Entertainment.
Gelfond said it's unlikely Asian audiences have lost their taste for Western fare, and expects U.S. films will continue to dominate global ticket sales when the virus is under control.
"Last year was a question of filling in a vacuum by the Chinese local films; there was nothing playing," he said. "Once the Hollywood films come back, I think the audiences will want to see those as well as the local films."