Mountain of Crisis-Era Bad Debt Puts Brakes on Greece's Rebound
(Bloomberg) -- Investors who specialize in buying up soured debt at a discount are gathering in Athens to hear whether there's value in the debris left by one of the steepest economic crises in living memory.
The money men attending an annual conference on Greek non-performing loans on Friday can expect a warm welcome too. They're central to Greek government plans to revive a banking system that remains hobbled by bad debt, starving companies of much-needed capital.
Even as the economy heads into a third year of growth, credit provided by Greek lenders to private enterprises is declining and fell 1.4 percent in November from a year earlier, according to central bank data.
"Small and medium enterprises with excellent know-how and solid business propositions and around 30 million euros in revenues or less, are in great need of funding," said Petros Doukas, chairman of advisory boutique Capital Partners SA and a former deputy finance minister.
One of the biggest obstacles to providing that money is the ongoing legacy of the country's debt crisis that forced it to seek multiple international bailouts. Borrowers are failing to meet payments on almost half the debt owed to Greece's banks. In other words, there's 88.6 billion euros ($101 billion) of bad loans weighing down the balance sheets of Greek lenders, equivalent to about half the country's annual economic output.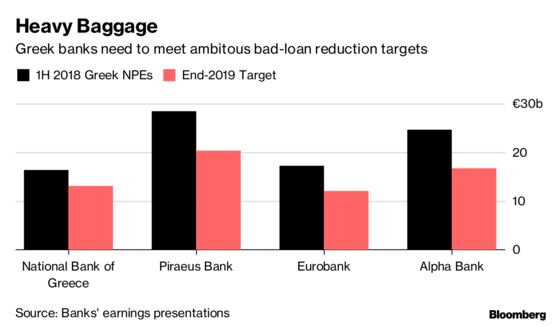 The banks have started chipping away at the problem and sold 12.5 billion euros of non-performing exposures to investors in 2018, according to a report from Evercore.
But the government recognizes that's not enough and wants NPL sales to shift up a gear.
One proposal being weighed by regulators is an Italian-style model whereby debt is unloaded into special purpose vehicles which then sell bonds to investors. The plan also involves potential government guarantees for the safest tranches of debt. Finance Minister Euclid Tsakalotos will seek approval for the plan from European Union state-aid authorities. Meanwhile, Greece's central bank is also working on its own plan to repackage the debt and sell on the exposure to investors.
Much rides on whether international investors can be persuaded to back such initiatives to unfetter the banks and make it easier for companies to access capital.
"There's no lack of investment appetite, but Greek banks need to do something radical to clean up their books," said Ilias Plaskovitis, special adviser to the governor of the Bank of Greece. "These two schemes allow them to be able to return to the market selling to investors a positive story."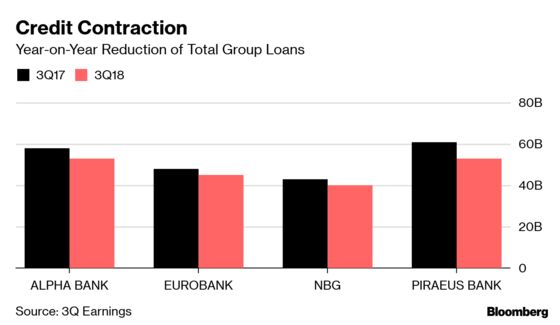 Greek policymakers and bankers will be paying close attention to the mood among investors attending the Athens conference, therefore. Those investors will in turn be seeking assurances from them that Greek debt is a market worth buying into.
"Reducing bad loans comes down to two elements," said Dimitrios Anagnostopoulos, chief risk officer at Attica Bank, which in July 2017 securitized a 1.3 billion-euro package of Greek NPLs. "First, a functioning servicing market and secondly a favorable macroeconomic environment."