Mortgage Rates in the U.S. Jump to the Highest Level Since April
(Bloomberg) -- Mortgage rates in the U.S. climbed to a six-month high.
The average for a 30-year loan was 3.05%, up from 2.99% last week and the highest since early April, Freddie Mac data showed Thursday.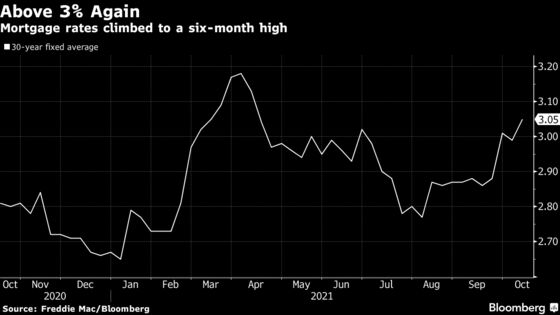 Rates tracked a jump in yields for 10-year Treasuries, which late last week reached the highest level since June. The Federal Reserve has signaled it's preparing to taper its Covid-era bond purchases this year, a move that could further bump up borrowing costs. 
"As inflationary pressure builds due to the ongoing pandemic and tightening monetary policy, we expect rates to continue a modest upswing," Sam Khater, Freddie Mac's chief economist, said in a statement.
Rising rates would cut into purchasing power for potential homebuyers, who already are struggling to find properties they can afford. Competition for a tight supply of listings has driven up prices across the U.S.