Mortgage Investors Warm to 15-Year Securities as Yields Fall
(Bloomberg) -- Wall Street analysts are taking note of the relative value and better extension protection afforded by 15-year MBS compared to their 30-year counterparts as rates trend near multi-year lows.
Both Oppenheimer & Co. Inc. and JPMorgan Chase & Co. MBS analysts have highlighted the 15-year sector in recent weeks, with the former noting their relatively slow prepayment speeds and the latter their cheapness compared to 30-year. R.W. Baird's Kirill Krylov said yesterday that he expects "an increasing number of investors to return to the shorter-duration 15-year sector in order to begin preparing for any reversal of rates."
Supply technicals have certainly favored 15-year conventionals, with net issuance averaging negative $2 billion per month since July compared to a positive $67 billion for the 30-year, according to Wells Fargo & Co. data. As the 15-year is primarily a creation of borrowers refinancing into a shorter maturity, this runs counter to expectations for a period of increasing prepayments, but this anomaly is likely explained in part by two factors.
First, the flat yield curve reduces the ability of lenders to offer lower rates to 15-year borrowers, muting their supply. Second, the most recent 30-year vintage borrowers have been the most enthused to refinance their mortgage and there hasn't been enough time for them to build the equity needed to make a shorter amortization mortgage such as the 15-year worth their while. It's notable that the average size of a refinanced loan in the latest MBA report is at its highest in a month, suggesting more recent vintage borrowers continue to take advantage of lower rates.
In fact, the latest prepayment speed report showed a slowdown in Fannie Mae 15-year MBS of 3%, compared to an 11% increase in Fannie Mae 30-year MBS. From the two having both paid at 11.2 CPR in April, 30-year MBS has subsequently paid faster every month, with September's report showing them 5.8 CPR higher than the 15-year. In a world where most mortgage backed securities are priced at a premium, slower speeds benefit performance.
The option-adjusted spread differential seen between the Fannie Mae 30-year and 15-year current coupon indexes has dropped below zero, meaning the 15-year is offering more spread than the longer duration 30-year. At -1.4 basis points, it is below both its trailing five-year and year-to-date averages of +13 and +5, respectively.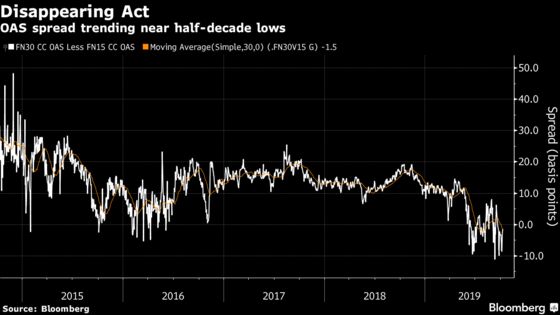 Last, while the duration profiles of the two indexes are similar -- with the 15-year index at 2.66 and the 30-year at 2.79 years -- in the event of a rate sell-off it is the longer maturity 30-year which may see prepayments drop off more precipitously, likely leading to a greater extension in its duration profile.
NOTE: Christopher Maloney is a market strategist and former portfolio manager who writes for Bloomberg. The observations he makes are his own and are not intended as investment advice