Morgan Stanley Has a Warning About a Potential BBB Bond Bust
(Bloomberg) -- It's not just denizens of high finance on Wall Street that would lose if the epicenter of U.S. credit trembles, the aftershock would also hit Mom and Pop.
Morgan Stanley strategists modeled the economic fallout wrought by tumbling prices for some of the hottest debt in Corporate America: those rated BBB.
A sustained 10 basis-point widening in BBB spreads would spur a 0.3 percentage point reduction in growth while the unemployment rate would rise by 0.15 percentage point, all else being equal, according to the study published this week.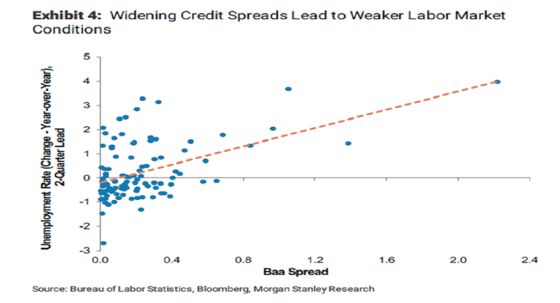 "The risk bears watching as a sustained tightening in corporate credit conditions can create strong headwinds for economic activity," economists including Robert Rosener wrote in a report.
Morgan Stanley used as its sample set the $2.5 trillion of bonds rated BBB, which make up about half the investment-grade corporate debt market and now seen as a hotspot for leverage and downgrade risk in a recession.
Spreads for the swathe of borrowers Morgan Stanley looked at have surged almost 20 basis points this month to 161 basis points, the most since 2016.
All told, a sustained 100 basis-points increase in BBB premiums over the course of a year is the equivalent to a 62 basis-point hike in the benchmark federal funds rate, it said.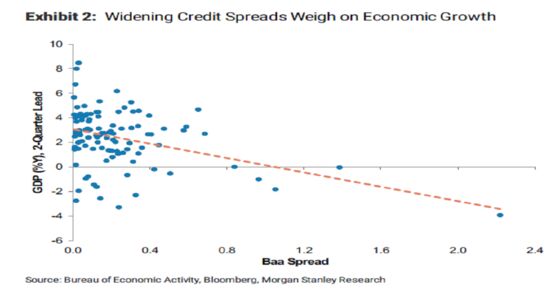 The conclusion offers food for thought for Federal Reserve officials on the macro impact of tightening financial conditions.
Companies that gorged on debt in an era of easy money are storing up trouble for the next downturn, according to prominent figures such as Bruce Richards, chairman and chief executive officer of Marathon Asset Management.
They could rapidly lose their high-grade ratings in a recession and swamp the market with so-called fallen angels, he said in a Bloomberg TV interview this month. He reckons $1 trillion of such bonds could even justify junk ratings based on their leverage ratios -- a figure that tallies with downgrade estimates of Morgan Stanley's credit team for the next bust.