Morgan Stanley Turns a Bit Less Bearish on Stocks 
(Bloomberg) -- One of Wall Street's bears is calling an end to the worst of the market pain.
While U.S. stocks could be in for a choppy ride during the rest of 2018 as liquidity is unlikely to improve, most of the price damage is done for now, according to Morgan Stanley strategist Michael Wilson.
"We see the need for some healing and the Rolling Bear turning into a Chopping Bear as investors try to figure out what will lead during a time of year when short-term performance pressure may exert more influence than normal," Wilson wrote in a note Monday.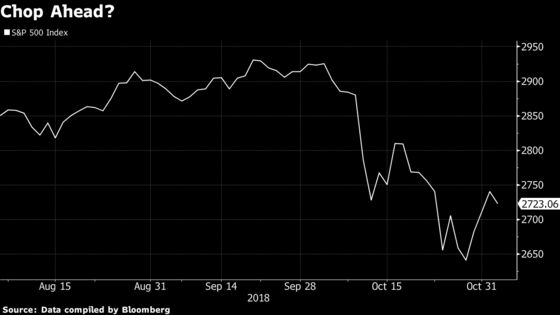 Wilson has deployed "rolling bear" for months to capture the idea that markets would be hit by a series of blows affecting different sectors at different times, as the Federal Reserve's tightening and a less-synchronized global economic expansion weighed on equities.
Shrinking liquidity from the Fed's quantitative tightening, and now the European Central Bank and Bank of Japan tapering quantitative-easing purchases, has been a focus all year, Wilson wrote. It reached a "tipping point" early last month and was likely the primary catalyst for stocks' worst month since the 2011-12 equity bear market, he added.
"The good news is that global asset prices now reflect this risk," Wilson wrote. "The bad news is that the growth in global central bank balance sheets is set to decelerate and go negative by January. We think this will accentuate the choppiness and make it difficult to trade."
Wilson also highlighted the changing fortunes of value and growth stocks.
Morgan Stanley's "shopping list" screen leans toward value cyclicals, according to the report, naming Baker Hughes, Continental Resources Inc., SVB Financial Group, State Street Corp. and Caterpillar Inc. as among the value stocks on the list. World Wrestling Entertainment Inc. also made the roster; it's a bit more expensive "'but still looks compelling to us given the magnitude of its recent sell-off," according to the report.
"We have had a preference for value over growth since late July. October's relative outperformance in a down market is encouraging and we think signals a more important, longer lasting leadership change," Wilson wrote. "Whether we are right or wrong, we think getting this right will be more important than calling the index level for the rest of the year."