Morgan Stanley Says U.S. Vote Result Delay May Boost Treasuries
(Bloomberg) -- It's possible the winner of the U.S. presidential vote won't be known for some time after election day, which means investors should plan for potential uncertainty, according to Morgan Stanley.
Voting-by-mail will probably turn what's usually an "election night" into at least an "election week," if not a month or longer, strategists led by Michael Zezas and Ariana Salvatore wrote in a note. That lack of clarity on Nov. 3 gives investors an opportunity to hedge, with potential flights to quality in focus, they said.
"Before election results appear with certainty, we expect risk appetite to be low among investors, which will likely keep a bid for U.S. Treasuries," Zezas and Salvatore said.
"The more time it takes to get a result with certainty, the flight-to-quality bid could increase," they added, as the "longer it takes to get the result, it increases the probability that the results are close, which could then signal that we're headed toward a divided government outcome," with the potential for tighter fiscal policy.
They added that surveys suggest a "material skew" toward Democratic candidate Joe Biden among those who intend to cast a vote by mail, which means "early returns in favor of Republicans may not be an accurate indicator of the final result."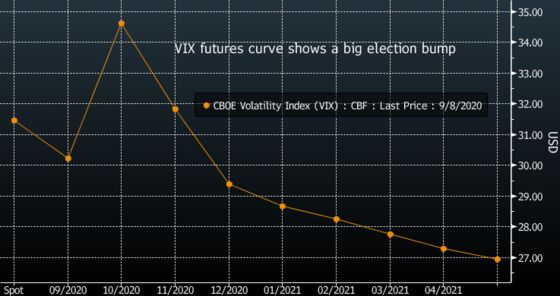 Investors should therefore extend hedges beyond Nov. 3, as "election day volatility appears fully priced in," the strategists said. With high risk premia in equities and credit, "short vol bias is appropriate," and investors should consider rates and foreign-currency options, which are "cheapest to own outright."
The strategists also expect equity markets may struggle with how to price outcomes around key policies on taxation, energy, tech and financial regulation, where party control makes a big difference.
They see attention turning to "key market debates," including the impact of Biden's climate plan on energy stocks; the direction tech policy may take, with a Biden administration viewed as likely to move toward tougher regulation; a potential expansion of government-run health care if Biden were to win, and financial sector worry about the potential Biden may name a "progressive" Treasury secretary.
Read more: Health Care Faces Changes If Democrats Sweep: Wall Street Votes