Morgan Stanley Sees Mispricing of Fed at Both Ends of Curve
(Bloomberg) -- Morgan Stanley strategists reinforced their recommendation for a flattening U.S. yield curve, concluding that traders are currently mispricing the outlook for the Federal Reserve at both the short and long end.
On one hand, market pricing of near-term Fed policy "remains entrenched below the median dots in 2019, 2020 and 2021," Morgan Stanley analysts including Ellen Zentner and Matthew Hornbach wrote in a note. The dots refer to the dot-plot projections of Fed officials for the policy interest rate released Wednesday:
3.125 percent for 2019
3.375 percent for 2020
3.375 percent for 2021
Two-year Treasury yields inched down by more than 2 basis points Wednesday, to about 2.81 percent, after the Fed boosted its target range for its benchmark to 2 percent to 2.25 percent and pledged to keep tightening.
At the other end of the curve, "pricing reflects a view that is too optimistic at this juncture" given the outlook for growth, the Morgan Stanley team wrote Wednesday. "The median FOMC participant, who expects the economy to revert to its 1.8 percent potential rate of real growth by 2021, agrees," they wrote, referring to the Federal Open Market Committee -- the voters on Fed policy.
Investors should stay short two-year Treasuries, and be overweight 10-year and 30-year securities, the strategists wrote. Ten-year yields are about 3.04 percent and 30-year ones are around 3.17 percent, both down from recent highs.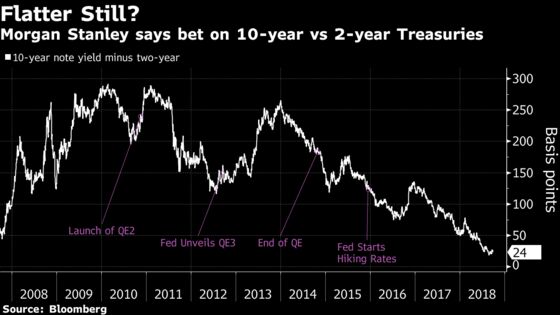 They also said upcoming readings on euro-area inflation and the U.S. consumer price index could trigger a covering in short positions on longer-dated Treasuries. That's after Chairman Jerome Powell's remarks Wednesday that inflation would need to surprise "to the upside" to spur policy makers to accelerate their tightening.
"Powell's view suggests that, for Treasuries to break to new yield highs, U.S. CPI inflation needs to surprise to the upside," the Morgan Stanley analysts wrote. European inflation -- which could affect thinking on European Central Bank policy and feed through to Treasuries -- could also be key for investors, they wrote.
"We continue to suggest investors maintain duration longs, and consider adding to them if weakness takes hold after euro area inflation data later this week," the team wrote.