Morgan Stanley Leads Big Banks in Selling Bonds Post Earnings
(Bloomberg) -- Morgan Stanley became the first big Wall Street bank to bring a new bond deal after reporting third-quarter earnings, setting the stage for other banks to follow.
The lender borrowed $5 billion in a two-part bond sale on Thursday, according to a person with knowledge of the matter. The longest maturity, an 11-year portion, yields 1 percentage point above Treasuries, after initial discussions of around 1.15 percentage points, said the person, who asked not to be identified because the details are private.
A barrage of U.S. bank-earnings beats may herald a splurge of bond issuance from the financial sector before borrowing costs rise too much. Benchmark 10-year Treasury yields reached the highest since mid-year this week. The bond deal comes as risk premiums in corporate debt remain low, increasing the appeal to issuers.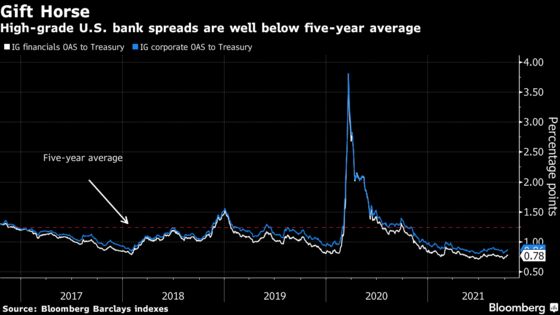 Morgan Stanley's investment bankers scored their best quarter ever, boosted by dealmaking. The division hauled in $2.85 billion in the third quarter, a 67% jump that topped analysts' estimates and helped drive firm-wide profitability higher.
Morgan Stanley and Goldman Sachs Group Inc. are seeing increased prime brokerage activity after the implosion of Archegos Capital Management and are likely to issue new debt to finance that part of their businesses, according to Bloomberg Intelligence analyst Arnold Kakuda. 
"I see the bond sale as Morgan Stanley helping to finance their prime business," Kakuda said in a telephone interview Thursday. "They have tight spreads and its businesses are doing pretty well."
Bill Hwang's Archegos collapsed in March as some of its more than $100 billion in positions tumbled, triggering margin calls from banks, which then dumped their holdings. The ensuing rout caused lenders to lose more than $10 billion and forced internal probes and the departures of senior executives. Hwang's brokers included Credit Suisse Group AG, Nomura Holdings Inc., Goldman Sachs and Morgan Stanley.
Bigger banks like JPMorgan Chase & Co. and Bank of America Corp. have been issuing more debt since the expiration of the Federal Reserve's supplementary leverage ratio relief in late March to boost their cash holdings to support ballooning balance sheets, said Kakuda.
"I wouldn't be surprised to see JPMorgan issue senior debt and they can also do sub or preferred notes," he added. "Citi may do one bond deal until year end while Bank of America may start slowing down going forward. Wells Fargo will probably not issue the rest of the year."
Financial sector debt spreads tightened on Thursday, pacing a broad-based credit rally. High-grade senior financial sector cash bond spreads tightened 1.2 basis points as of 4:41 p.m. in New York, data compiled by Bloomberg show.