Morgan Stanley Leads Banks Lower After Ugly Earnings Miss
(Bloomberg) -- Morgan Stanley shares fell as much as 6.5 percent Thursday, the most in six weeks, after fourth-quarter profit, net revenue and wealth management performance missed estimates.
The New York-based bank is leading the S&P 500 Financials Index lower. Decliners in the group also include regional bank KeyCorp -- which earlier reported earnings plus an outlook that Morgan Stanley analyst Ken Zerbe deemed "disappointing" -- and Silicon Valley lender SVB Financial Group. Other big banks with share drops include JPMorgan Chase & Co., Citigroup Inc. and Goldman Sachs Group Inc.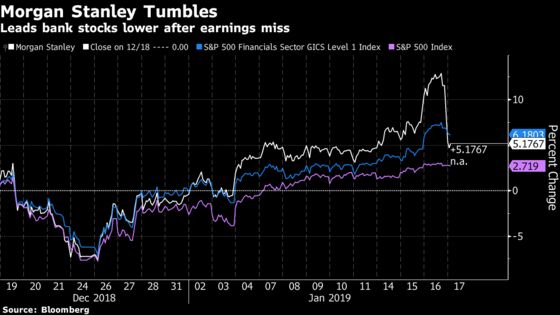 Morgan Stanley "missed its earnings by quite a mark, with surprisingly weak performances in two key areas: wealth management and equities trading," Opimas CEO Octavio Marenzi said. "In wealth management, Morgan Stanley's revenues were down 6%, while competing firms were able to eke out single-digit growth," Marenzi wrote via email. "In equities trading, Morgan Stanley was even further behind the competition, with flat revenues where other investment banks were able to benefit from market volatility and show double-digit growth."
Wolfe Research's Steven Chubak had expected Morgan Stanley to underperform as shares have been beating the broader market recently, following strong gains at peers. For the new year through Jan. 16, Morgan Stanley had climbed 12 percent, while the S&P 500 rose 4.4 percent.
M&T Bank Corp. was leading gainers among large-cap financials as of mid-morning, with BB&T Corp. and US Bancorp also advancing. All three reported earnings that either beat or matched estimates.