Goldman Joins Wall Street Wave of Lower Treasury Yield Calls
(Bloomberg) -- Go inside the global economy with Stephanie Flanders in her new podcast, Stephanomics. Sign up here.​​​​​​​
Wall Street banks are cutting their forecasts for Treasury yields and shelving calls for the Federal Reserve to hike interest rates this year amid signs of slowing economic growth.
Goldman Sachs Group Inc. and JPMorgan Chase & Co. still forecast yields rising over this year, but by less than expected -- to 2.8 percent and 2.75 percent, respectively, from 2.44 percent now. Morgan Stanley now sees 10-year Treasury yields ending 2019 at 2.25 percent, down from 2.35 percent previously.
All three see Fed Chairman Jerome Powell and his colleagues keeping rates on hold this year. Policy makers have pledged patience in adjusting rates, pivoting from December projections of further tightening.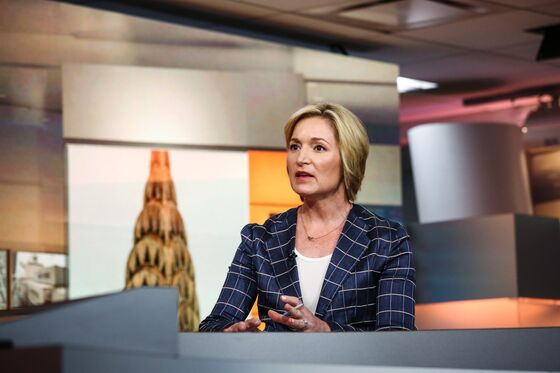 "We and the markets underestimated Chair Powell's appetite to deliver a preemptive strike against downside risks to the outlook," Morgan Stanley analysts including Ellen Zentner wrote in a March 31 note.
The forecast revisions come amid concern that the economic slowdown in the first quarter may prove to be more than a temporary blip. Bonds across the world have surged in recent weeks, driving yields to multiyear lows.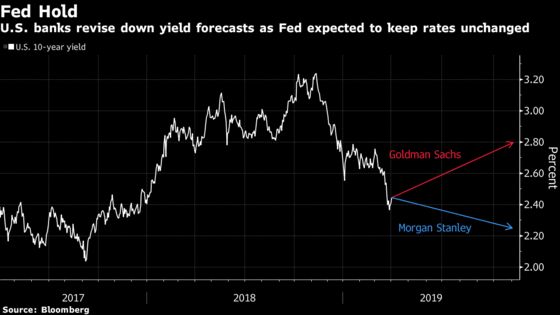 While markets are now leaning toward a Fed rate cut this year, Morgan Stanley, Goldman and JPMorgan don't see that happening in the near-term. Goldman has lowered its yield forecasts across the curve, but its strategists still say pessimism is overdone. They expect growth to pick up in the second half of the year.
"We have marked down our path for yields, but still see the direction of travel as higher," wrote Goldman strategists led by Praveen Korapaty.
Read about HSBC's move to slash its yield forecast.
Treasuries fell on Monday and the yield curve from three months to 10 years re-entered positive territory after Chinese manufacturing data beat the highest estimate in a Bloomberg Survey. Ten-year Treasury yields rose Monday after touching the lowest level in 15 months last week.
The 10-year yield spread over three-month bills, which inverted last month for the first time since the financial crisis, was at 4 basis basis points.
Societe Generale SA also lowered its 10-year yield forecast, to 2.5 percent from 2.8 percent previously, on the view that worries over global growth will likely support haven assets. Europe has been beset by what traders are calling a Japanification of fixed-income markets, with German bond yields below zero percent for the first time since 2016.
"It is not surprising that Treasury yields are also declining in sympathy," wrote SocGen strategists led by Michael Chang. "We expect the higher correlation between U.S. and euro rates to persist and the depressed level of euro rates to continue to act as an anchor for U.S. rates."