More BOJ Watchers See Kuroda Locked In to Policy for 2019
(Bloomberg) -- More Bank of Japan watchers see the central bank keeping policy unchanged throughout this year, underscoring growing risks to the economy and the BOJ's inflation efforts.
All but one of 50 economists said they expect the BOJ to stand pat as it concludes a two-day policy meeting on Jan. 23, according to a Bloomberg survey conducted Jan. 10-15.
Only 28 percent said they expected any tightening or easing this year, down from 34 percent in a December survey. Just 16 percent now see the BOJ widening the trading range for 10-year government bonds this year, versus 32 percent in December.
Click here to read the survey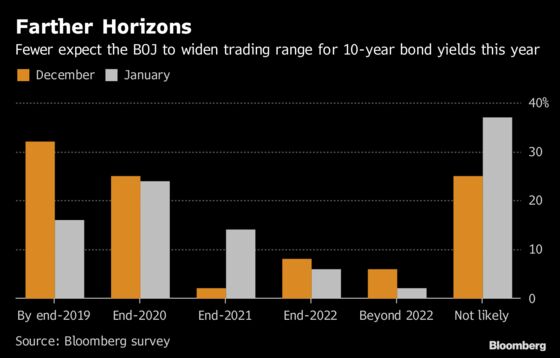 The outlook for Japan's growth and inflation this year has dimmed amid signs of slowing global growth, including in China. The U.S.-China trade war poses a risk to Japan's export-dependent economy, as does a stronger yen. The currency, seen as a haven asset, has surged in recent weeks as investors sought shelter from market turmoil.
More than 90 percent of economists said they expected the BOJ to cut at least one of its annual inflation forecasts when it releases its quarterly outlook report after its meeting next week, and more than 80 percent said it would trim at least one growth forecast.
Still, a strong majority -- 82 percent -- say the BOJ's next move will be to tighten policy. While only 24 percent said a recession was likely if the Japanese government proceeded with a sales-tax increase scheduled for October, 79 percent said the BOJ wouldn't have the tools it needed to fight such a downturn.
What Our Economists Says ...
The BOJ will stand pat next week but with risks on the rise discussions among board members are likely to be "lively," said Bloomberg Economics' Yuki Masujima. "One development we're watching is how Governor Haruhiko Kuroda manages a policy board that is loosely split into two camps: reflationists, and members more concerned about risks from extreme easing," Masujima wrote.
With more than half of economists in the survey saying inflation is not likely to ever reach the BOJ's 2 percent target, 22 percent said they now see the BOJ lowering the negative interest rate on some excess bank reserves at some point, including two people who expect it by the July meeting. In the last survey, only 12 percent said they expected a cut to the negative rate, and none saw it happening this year.