Moon Calls for Korean 'New Deal' to Create Jobs After Pandemic
(Bloomberg) -- South Korean President Moon Jae-in said he's ordering up a third extra budget to shield the economy from the coronavirus and called for a "Korean-style New Deal" to create jobs and boost growth once the virus is brought under control.
Moon said he was setting up a task force to lead public projects that can create jobs, according to a statement Wednesday that also announced 85 trillion won ($69 billion) in new aid for small businesses, financial markets and the unemployed.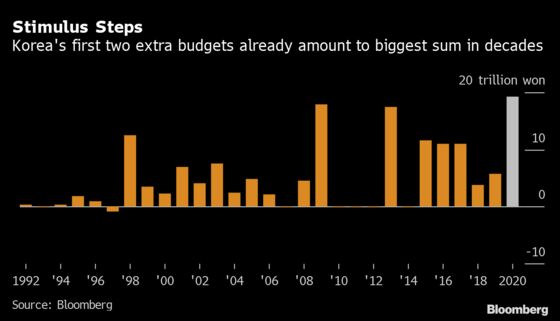 "The government will prepare for innovative growth in the post-coronavirus era by not just creating jobs but pursuing large-scale state projects that provide a large boost to employment," Moon said in the statement.
In a sign of renewed confidence following last week's landslide election victory, Moon compared his vision to the New Deal launched by President Franklin Roosevelt in the 1930s to help the U.S. recover from the Great Depression.
Even though the spread of the virus is slowing in South Korea, last month was the worst month for job losses since the global financial crisis, according to official statistics.
South Korea Readies Jobs Package as Virus Hits Unemployment
To stem the damage, Moon on Wednesday pledged to spend 10 trillion won and create 500,000 new jobs. Separately, he added 35 trillion won to a 100 trillion won package to support small businesses and stabilize financial markets.
He also said the government would start a 40 trillion won fund to prevent the collapse of industries essential to the economy. He didn't say which industries would be targeted or how big the new budget would be.
At a separate briefing, Finance Minister Hong Nam-ki said the budget would be substantial.
The emergency budget proposed Wednesday would be the third so far this year. It comes quickly after the government last week submitted another worth 7.6 trillion won to provide cash handouts to millions of families. An initial emergency budget was passed in March.