Montana Offers $1,200 to Unemployed to Tackle Labor Shortage
(Bloomberg) -- Montana Governor Greg Gianforte is seeking to lure residents back into the workforce with a $1,200 payment, blaming an expansion of unemployment benefits for a labor shortage in the state.
On Tuesday, the Republican governor announced a plan to give people the one-time stipend if they give up unemployment benefits and work for at least four weeks, his office said in a statement. In late June, the state of about 1.1 million people will also stop issuing the $300 in supplemental unemployment benefits that have been provided during the pandemic.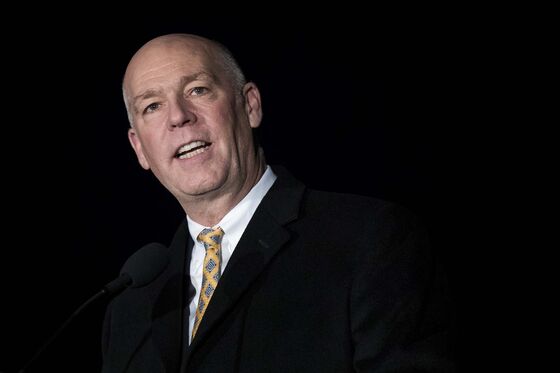 The $1,200 incentive will be funded by the aid the state receives from the American Rescue Plan Act. Montana's plan shows the variety of economic-development initiatives that the relief funds could finance on the state and local level. A shortage of workers is affecting industries across Montana, including the health care, construction, and hospitality and leisure industries, Gianforte said.
"The vast expansion of federal unemployment benefits is now doing more harm than good," Gianforte said. "We need to incentivize Montanans to reenter the workforce. Our return-to-work bonus and the return to pre-pandemic unemployment programs will help get more Montanans back to work."
U.S. governors are starting to unveil their plans for the $195 billion of aid set aside for states under President Joe Biden's rescue plan. They can use that money for a range of purposes, including aid to households or businesses, according to the Treasury Department. The agency has said it will provide additional guidance on how governments can use funds in the coming weeks.
Other governors are also looking to devote some of their federal aid to bolster their labor force. Connecticut Governor Ned Lamont, a Democrat, last week proposed using some of the state's $2.6 billion of federal aid for workforce development programs, like a short-term job-training series that his office says could teach more than 9,000 residents. He said that will help some of the state's more than 140,000 residents who are still unemployed.
Montana has an unemployment rate of just 3.8%, tied with two other states for the ninth-lowest rate in the country, according to the U.S. Bureau of Labor Statistics. Still, the state's Department of Labor and Industry says Montana's labor force is 10,000 workers smaller than it was before the pandemic.