Momentum and Mysteries: Investors Reflect on Bitcoin's Record Run
(Bloomberg) -- On Monday, Bitcoin fans were rewarded with a long-yearned-for milestone: a record high for the world's largest digital asset.
Bitcoin rose as much as 8.7% to $19,857, nearly 2% higher than its 2017 peak. In the three years since that previous high, it went through a boom and bust and another boom, with many crypto fans citing a warmer institutional embrace as the catalyst for the renewed rally. That includes PayPal Holding Inc.'s decision to allow customers to access cryptocurrencies as well as Fidelity Investments' launch of a Bitcoin fund.
Proponents have also seized on the central-bank-money-printing narrative to promote the notion that Bitcoin is a store of wealth even as inflation remains mostly muted. Guggenheim Partners LLC, for instance, is among the institutional investors casting an eye on cryptocurrencies. Meanwhile, strategists at Bernstein are some of the latest to weigh in.
"I have changed my mind about Bitcoin's role in asset allocation," Bernstein's Inigo Fraser-Jenkins wrote in a report Monday, dropping a three-year-old view that crypto has no place in asset allocation. Greater governmental meddling might mean there could be increased demand for cryptocurrencies as a result of fiscal expansion and potential inflation, among other factors. But, "if they get in the way of policy implementation, then governments might seek to constrain them."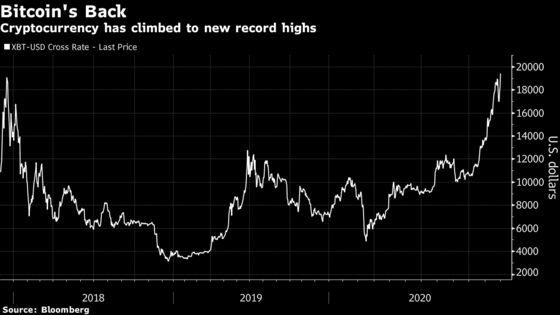 Here's what market-watchers are saying about Bitcoin's rise:
Denis Vinokourov, head of research at digital-asset prime broker Bequant:
"The market is entering peak FOMO as Bitcoin reaches a new all-time high after three years in waiting, and inflows from retail and institutional market participants will likely accelerate from here. The news that Guggenheim Partners is to enter digital assets via GBTC is a testament to that," he said. "The introduction of an ETF will change this landscape but the risk is that prices will be much higher when the ETF is finally approved."
JJ Kinahan, chief market strategist at TD Ameritrade:
Bitcoin's selloff last week around Thanksgiving "scared people a bit, if you will, in terms of they just saw how fast it can move, particularly when the rest of the world is closed. So I think that people still have a great interest in it but I still think it's one of those things where everybody's interested but many people are hesitant primarily because they still don't fully understand how it works. Some people who were thinking of getting into it, it shook them up a little bit. It's emblematic of how volatile it can be, absolutely."
Antoni Trenchev, co-founder and managing partner of Nexo, a crypto lender:
Last Thursday's selloff "proved to be a Thanksgiving gift for Bitcoin bargain hunters. Few expected Bitcoin to bounce back so quickly and take out the 2017 high at the second time of asking. Now things get interesting as media attention brings in the retail crowd and sets it up for the next leg higher," he said. "It's worth reflecting how many times Bitcoin has been written off since the precipitous drop that came after the 2017 peak. Don't expect history to repeat itself. Today, we have proper infrastructure, a growing institutional-investor base and the maturing of a unique alternative asset, a refuge from the excesses of a monetary system that's doomed to destroy the value of the fiat in your pocket."
Andrew Mies, chief investment officer of 6 Meridian, a wealth management firm:
"It's interesting to see how Bitcoin has had this tremendous move while gold has really struggled, if you think about those both as non-governmental financial assets that you can own. They've clearly decoupled in quite a big way. The point being is that speculative markets can be driven by things that have no logical explanation. It doesn't have to be an economic explanation, it doesn't have to be a fundamental explanation. At the end of the day, if people are saying, we're fearful of inflation or we're fearful of XYZ, they both should be moving up."
Simon Peters, analyst at multi-asset investment platform eToro:
"Whilst this meteoric rise does look similar to the run of 2017, there are some fundamental differences which indicate Bitcoin could go higher still. Firstly, it isn't just the average person on the street buying Bitcoin. Larger investors, such as pension funds and hedge funds, are investing in crypto with many seeing it as a hedge against inflation. Secondly, the demand continues to outweigh the supply, with investors looking to hold onto their Bitcoin. For these reasons, Bitcoin could continue to climb this year. If we maintain the current rise, then $25,000 before the start of 2021 is in the cards."
Hai Vu, director of research at Brentview Investment Management:
"For a while it seemed like it was another half-baked idea that was going to be relegated to the dustbin of Wall Street. Lately with the pandemic and all this talk about, 'One day, Bitcoin will replace gold' and even the Winklevoss twins are back. It's very, very scary to a conventional investor like most asset managers are. I don't think asset managers are equipped to deal with Bitcoin. There's not a lot of provision for a traditional asset manager to invest in Bitcoin. This is one area that potentially poses some risk because when these manias run, they run for a long time. To me that's a threat to our industry."