Moelis Likens Crypto to Gold Rush, Watches for Opportunities
(Bloomberg) -- Ken Moelis, the eponymous founder of the investment bank, says he's watching the cryptocurrency space for new business opportunities.
"Maybe on the personal side, definitely on the business side, we are focused on having expertise," the Moelis & Co. chief executive officer said Tuesday during a Bloomberg Deals summit, when asked if he might invest in crypto. "It's a big market, there's a lot of capital in there, there's a lot of projects," though noting he remains cautious on the digital assets.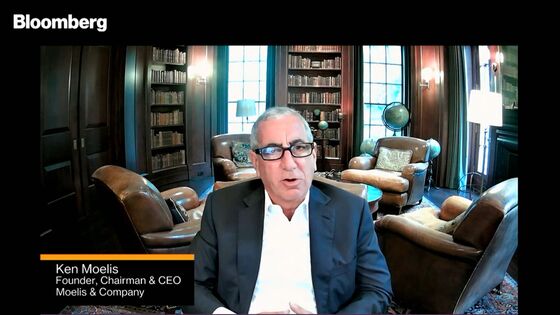 While investment banks tiptoed around the volatile crypto industry for a time, deals have begun to escalate. Mike Novogratz's Galaxy Digital struck the first billion-dollar acquisition this year when it agreed to buy BitGo Inc., while Goldman Sachs Group Inc. and JPMorgan Chase & Co. were among banks that helped exchange Coinbase Global Inc. go public.
"It's like the gold rush of 1848, a lot of people didn't know if there was gold in the ground, but Levi's made a business selling jeans and Wells Fargo made a banking business," Moelis said. "I believe our business is selling the picks and the shovels, so we have to know what people want. What picks and what shovels they need, what tools they need to be successful."
Moelis had separately said Wall Street is missing the the social aspect of the meme stock craze that's bringing hoards of new, young investors to the market.
"They're just having fun, I think 70 to 80% of this is fun," Moelis said, adding that his own kids are involved and sending him messages on stocks. "When you go to a casino, the most boisterous, loudest craps table is always the one where everyone runs over because someone has made their point, they've predicted something."
Yet he warned that there will be people who bet far beyond their means.
"You're in a global craps game, where everyone is talking to each other, and they're having a blast," he said. "At every craps table, 70 to 80% of the people, they know they're having fun and know they're going to lose their money, and accept it. There is somebody who's going to lose their mortgage."
Moelis & Co. shares gained 1.6% to $54.33 at 3:19 p.m. in New York. They have advanced about 21% this year.