Covid Shot Supply Strains Set to Ease, Lawmakers Hear
(Bloomberg) -- Bottlenecks that have shadowed the U.S. immunization campaign could soon begin to ease, vaccine makers said in an online Capitol Hill hearing.
Moderna Inc. said it has received positive feedback from U.S. regulators on a proposal to expand the number of doses of its Covid-19 vaccine in each vial, while Pfizer Inc. said it expects its output to ramp up in coming weeks. And Johnson & Johnson, which could gain clearance for its one-shot vaccine as soon as this week, said it will be ready to ship millions of doses.
The U.S. Food and Drug Administration could allow it to put as many as 15 doses of its Covid-19 shot into each vial, Moderna said in testimony delivered Tuesday in the House Energy and Commerce Committee hearing. Currently, Moderna's vials hold 10 doses. If authorized, the change could within months increase supply of this vaccine, as one of the main production bottlenecks for Moderna has been at vial-filling plants.
Pfizer told lawmakers that improvements and expansions to its vaccine manufacturing effort could allow it to ship 13 million doses of its vaccine a week by mid-March, up from 4 million to 5 million doses a week in early February.
J&J said it may be able to produce enough of its one-dose vaccine to inoculate more than 20 million Americans by the end of March. A single-dose shot could help many people get fully vaccinated more quickly, as the currently authorized vaccines each require two doses for complete protection.
The company will have 4 million doses ready if and when the shot is authorized by the FDA, according to Richard Nettles, vice president of U.S. medical affairs for J&J's Janssen infectious diseases and vaccines unit.
"We're prepared to ship immediately upon emergency-use authorization," he said in the online hearing.
FDA outside advisers are scheduled to meet Friday to determine whether to recommend the vaccine for clearance. If the panel vote is favorable as expected, authorization could come soon after.
Discussions between Moderna and the U.S. government about increasing the number of doses per vial began with the Trump administration's Operation Warp Speed program, according to its former Chief Scientific Adviser Moncef Slaoui.
By making each vial more efficient, Slaoui said, Moderna will be able to circumvent some of the difficulties faced in the last stage of the production process, known as fill-finish, where the vaccine's substance is placed in vials, packaged and distributed.
Pfizer, which produces a similar vaccine to Moderna's, has received a green light from regulators to extract an additional dose from each of its vials. As a result, the company has increased its expected output for the year by 50%.
By the end of July, Pfizer should be able to ship all 300 million doses it is contracted to provide in the U.S., Chief Business Officer John Young said, enough to vaccinate 150 million people.
AstraZeneca Plc expects its Covid vaccine to gain emergency-use authorization in April, Ruud Dobber, vice president for biopharmaceuticals, said in the hearing, and the company expects to deliver as many as 50 million doses by the end of April.
Novavax is planning to start pediatric trials of its experimental Covid vaccine in the spring, Chief Commerical Officer John Trizzino said.
With the exception of Pfizer, all of the companies at the hearing received funding from Operation Warp Speed to accelerate vaccine development and manufacturing as well as to secure supply. Pfizer and German partner BioNTech SE rejected U.S. capital for research and manufacturing, while still reaching supply agreements with the government.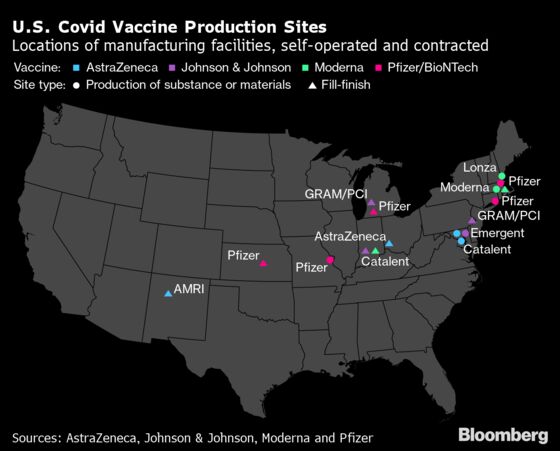 To date, U.S. regulators have only authorized the Moderna and Pfizer-BioNTech shots, both of which require two-dose regimens. A total of 64.2 million doses have been administered, according to Bloomberg's vaccine tracker, and more Americans have now received at least one dose than have tested positive for the virus since the pandemic began.
As second doses are coming due, state health systems have been strained for supply, leaving some without complete immunizations.
The Trump and Biden administrations have employed a Cold War-era law known as the Defense Production Act to help secure materials to accelerate production of the Pfizer-BioNTech shot, among others. On Friday, Pfizer CEO Albert Bourla announced the company was on-boarding new production facilities and suppliers of the vaccine.