Moderna's Vaccine Rally Takes $427 Million Bite Out of Shorts
(Bloomberg) -- Betting against Moderna Inc. may be a risky proposition right now after a first look at its Covid-19 vaccine in humans drove the shares to fresh highs. The stock is ripe for a short squeeze, according to financial analytics firm S3 Partners.
Short bets against the biotech firm have been growing since February even as the stock continued to scale new heights on optimism it may get regulatory authorization for one of the first vaccines during the global pandemic. Bears gambling against Moderna lost about $427 million Monday alone and more than $900 million so far this month, Ihor Dusaniwsky, S3's managing director of predictive analytics, said in an email.
The Cambridge, Massachusetts-based company has continued to rally despite potential safety concerns around the highest doses of its experimental vaccine. Moderna published results from a handful of patients that many were expecting to come from the government itself after the company received more than $400 million in federal funds to develop the vaccine.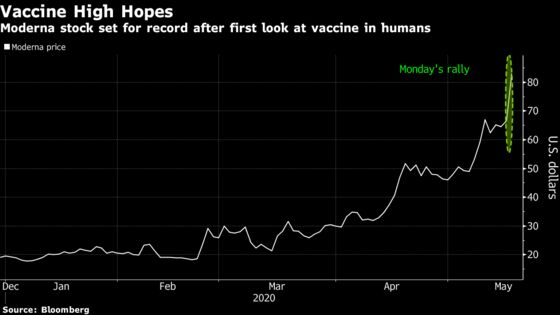 Moderna's nearly $30 billion valuation, mainly driven by speculation on the company's prospects in Covid-19, is giving some hedge funds pause, Goldman Sachs analyst Asad Haider wrote in a note dated late Friday before Moderna's results were made public.
Specialists might be even more cautious Monday after the results showed three patients at the highest dose had severe adverse events -- a clinical term for a negative reaction that may or may not be drug related. While none of those events were life threatening, a broadly used vaccine will need to appear very safe if it's to be given widely to healthy individuals.
Moderna plans to move forward with lower doses in the next step of testing. Manufacturing constraints will also be an issue for any vaccine developer as a global pandemic implies billions of people may eventually be looking for an inoculation.
Momentum among some small- to mid-cap biotechs "still seems to be catching many offsides," Haider said. The news cycle has been "quick to trigger painful squeezes" he said, highlighting Allogene Therapeutics Inc.'s 43% surge last week after positive results for its cell therapy, as well as Sarepta Therapeutics Inc.'s 11% jump on Friday after disappointing gene therapy results from a major competitor.
More than $1.6 billion in shares of Sarepta and Moderna are sold short, along with about $590 million for Allogene, according to S3 data. All three are among names Dusaniwsky sees as primed for a squeeze after large mark-to-market losses this month.
Short sellers have also targeted Gilead Sciences Inc. and Regeneron Pharmaceuticals Inc., which have been rallying on speculation about Covid-19 treatments and are among the top ten biggest shorts in biotech.
As investors look to biotech, not only to quash Covid-19 but as shelter from a roiled stock market, short sellers in the sector "have not fared well," Dusaniwsky said. Bearish gamblers had lost $2.81 billion through Sunday, on $48.6 billion in average short interest, according to S3 data.