Moderna Insiders Get Fresh Chance to Cash Out After 200% Surge
(Bloomberg) -- As Moderna Inc. teases record highs, previously tied-up insiders will get a fresh chance to cash in on the more than $17 billion jump since mid-February.
Faith that the biotech may have a hand in developing the first vaccine for Covid-19 has driven the stock up more than 200% since a secondary share offering in February, making it the top performer in the Russell 1000 this year. A lockup pact with officers and stockholders after the more than $570 million offering is set to expire May 12, though some officers have already been unwinding part of their stakes.
That's because terms of the offering lets executives continue to sell shares under existing trading plans. The plans, known as 10b5-1, lets insiders schedule trades at certain times or prices.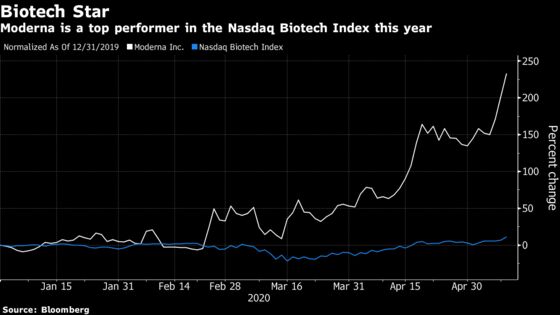 Moderna's rise has minted at least one new billionaire, Harvard University medical professor Timothy Springer. Stephane Bancel, the Cambridge, Massachusetts-based company's chief executive officer, also flirted with billionaire status.
Altogether, Bancel and a trust tied to him, and two other top officers, Lorence Kim and Stephen Hoge, have unloaded about 500,000 shares, many through prearranged plans this year, according to Bloomberg data. That calculation excludes sales from two other Bancel affiliates, OCHA LLC and Boston Biotech Ventures, which also sold shares during the quarter. Bancel and the trust have a combined stake of 7.3 million shares that was worth more than $470 million at Monday's prices.
Officers, directors, 5% stockholders and linked entities own more than 40% of the company's stock, Moderna has disclosed. "We will not be reporting on the personal financial decisions of our executives or directors," a spokeswoman said in an email when asked about the upcoming lockup. Moderna also didn't respond to requests for comment on details of the trading plans and who may be subject to the lockup.
Other prominent board members include Massachusetts Institute of Technology scientist Bob Langer, whose last reported stake of almost 3.1% is worth more than $740 million.
Despite the rally in shares, success for the biotech's experimental vaccine, mRNA-1273, is far from a given as the world awaits results from the first studies. While the Trump administration has pushed forward a new initiative "Operation Warp Speed," there's no guarantee any of the more than 100 vaccines in development will succeed. Scientists have yet to conquer malaria or HIV with an effective shot.
And buried under the excitement of news of an accelerated pace of development for Moderna's vaccine was what some on Wall Street consider a red flag ahead of clinical results. The impending departure of Kim, the company's chief financial officer. Kim, who before joining Moderna was a head of biotech investment banking at Goldman Sachs, carried Moderna through its initial listing in 2018. He won't be leaving the company until August and was part of a broader management shakeup as Moderna put in place a team ready to commercialize a vaccine.
Another early investor, top-holder Flagship Pioneering Inc., has also stayed mum on its plans. The biotech incubator, which holds a 14% stake in Moderna, declined to comment. Flagship CEO Noubar Afeyan is Moderna's chairman.
London-based AstraZeneca is the second largest shareholder of Moderna, with a 6.9% stake, and the two companies have multiple vaccine-development deals in place. The American company has been awarded more than $400 million in federal contracts for its vaccine technology.