Mobs Attack Venezuelan Migrants as Ecuador Pledges Tougher Rules
(Bloomberg) -- An outbreak of xenophobic rioting in northern Ecuador sent dozens of Venezuelan migrants fleeing and led the government to pledge tougher curbs on immigration.
The violence in Ibarra, a provincial capital of 150,000, began after a man knifed a pregnant young Ecuadorian during a hostage standoff. The perpetrator, who police said was a Venezuelan national, held security forces and civilians at bay with a knife for 90 minutes on Saturday night, before stabbing the 22-year old mother of two, who later died in hospital along with her unborn baby.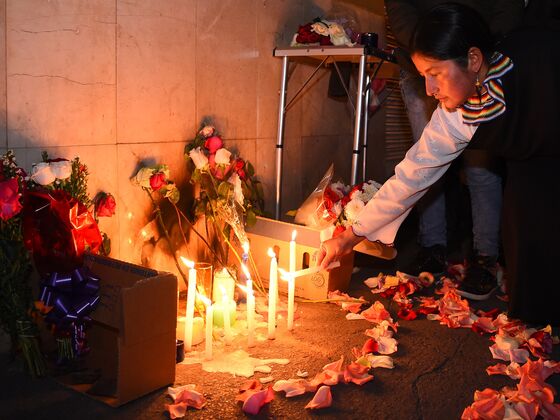 Images of the standoff and murder circulated on social media. Police said they arrested a 22-year old Venezuelan citizen called Rafael Yordy for the crime, while a government spokesman said four people had been detained for subsequently attacking Venezuelans in the town. No-one was injured in the riots, police said.
More than two million Venezuelans have fled the nation's economic collapse over the past two years, the largest migration in modern Latin American history. Many are now trekking south on foot across Colombia in the hope of reaching Ecuador, Peru and Chile.
Regional governments pledged to provide Venezuelans with access to services such as health and education, but are being overwhelmed by the scale of the crisis, with thousands more crossing borders every day. Migrants have sometimes encountered hostility, with nationalist groups calling for tighter controls in some countries.
In Ibarra, a protest march on Sunday turned violent, with locals ransacking a hostel where Venezuelans lived. Others chased Venezuelans, including women and children, through the streets, while demonstrators broke windows at the local public prosecutor's office.
In a national address on Monday, Vice President Otto Sonnenholzner announced the tightening of entry requirements for Venezuelans, who will now be required to show authenticated police records.