Mnuchin to Wield Power Over Yield Curve With Fresh Supply Boost
(Bloomberg) -- As Treasury Secretary Steven Mnuchin prepares to unveil plans to finance the surging U.S. budget deficit, his choices are seen as key to the fate of the yield curve, which is drawing scrutiny because of its march toward inversion.
The nation's debt managers are set to release a funding program for the next three months on Aug. 1, and bond dealers say it's a given that coupon-bearing issuance will rise for the third straight quarter. Some project Treasury will extend the sector it leans on to finance budget shortfalls out to the five-year maturity. Either way, the announcement could add fuel to the curve-flattening trend, which has alarmed officials who see it as signaling a darkening economic outlook.
Tax revenue is trailing spending, partly because of President Donald Trump's tax-cut package. As a result, the nation's fiscal stewards have little choice but to keep expanding America's $15 trillion pile of Treasuries, just as the Federal Reserve is raising rates and shrinking its balance sheet. The upshot: Net Treasury issuance will more than double this year to $1.44 trillion, JPMorgan Chase & Co. predicts.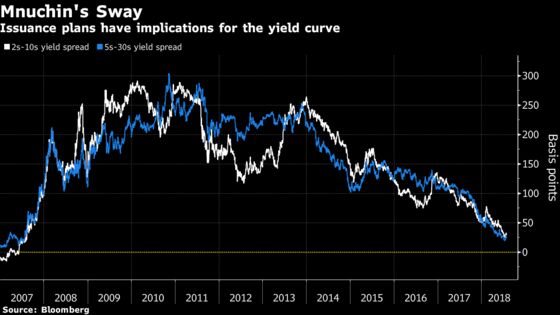 "It's the same overarching story going into this coming refunding," said Jonathan Cohn, an interest-rate strategist at Credit Suisse Securities (USA) LLC. "We expect to see continued issuance increases, with five-year notes to see a little bit more than they have previously."
Credit Suisse predicts the Treasury will lift auction sizes of 2-, 3- and 5-year notes by $1 billion each month over the period, while boosting all other coupon maturities and floating-rate securities by a one-time $1 billion over the quarter. In May, Treasury made a similar move yet limited the $1 billion monthly increases to only 2- and 3-year notes. The department has kept inflation-linked Treasuries stable this year.
Analysts at Goldman Sachs Group Inc. and TD Securities also say larger five-year sales are likely. But the majority of firms expect Treasury to stick to the status quo and limit the bigger increases to maturities of three years and less. A few, including Deutsche Bank AG, say Treasury will tap all tenors out to 30 years evenly.
With two-year yields touching the highest since 2008, the gap with 10-year yields slid below 24 basis points this month, its smallest since 2007. Meanwhile, the spread from 5 to 30 years shrank to less than 19 basis points. The flattening curve has led several Fed officials to warn of the recessionary signal that inversion would send.
"Greater supply this time at the five-year point could add some pressure to five-year yields, and that would on its own flatten the 5s10s or 5s/30s curve," said Zachary Griffiths, a strategist at Wells Fargo Securities.
The firm doesn't see that scenario as likely. It predicts a repeat of May: $1 billion monthly increases for 2- and 3-year notes, and for longer maturities to rise by $1 billion and remain at that level over the quarter.
"We see that as a steady state for Treasury at this point," Griffiths said. "It's potentially in November when we could finally see them favoring the long end of the curve a little bit more" as officials strive to keep the weighted average maturity of their debt holdings stable.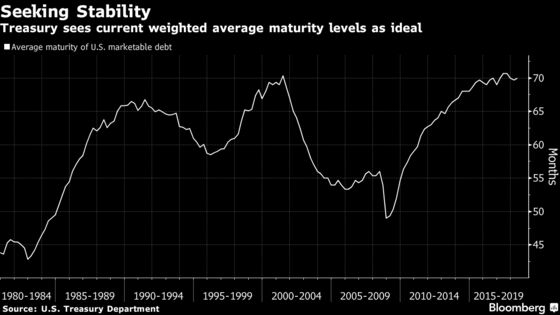 The White House's Office of Management and Budget estimates the deficit will swell to $1.085 trillion by fiscal 2019, from $890 billion this fiscal year and $665 billion in fiscal 2017. The projections have the shortfall rising to 5.1 percent of gross domestic product, from 3.5 percent in fiscal 2017.
The Trump administration has argued that faster economic growth will help boost tax revenue and reduce the deficit. But that's not happening yet. Gross domestic product expanded at a 4.1 percent annual pace last quarter, the fastest since 2014. Tax revenue in the same period was little changed from the year-earlier period at $1.04 trillion.
The surge in borrowing has yet to cause long-term rates to spike higher. Benchmark U.S. 10-year notes yielded just under 3 percent Monday in New York, as yields rose globally.
Yet the financing needs are still taking a toll on the nation's budget. With inflation and interest rates rising, debt-service costs rose 16 percent in the first nine months of this fiscal year from the same period of fiscal 2017. Combined with expenses for the country's three largest mandatory programs -- Social Security, Medicare and Medicaid -- Mnuchin is under pressure to find more ways to finance budget gaps. That's leading officials to ponder adding securities to their arsenal.
Treasury has already prepped market participants for the likely eventual introduction of a two-month bill and an additional sale of five-year Treasury Inflation Protected Securities.
Steven Zeng, a rates strategist at Deutsche Bank, expects two-month bills to debut in September -- part of a net increase in bill issuance to $400 billion in 2018, from around $140 billion in 2017. Treasury has leaned heavily on bill sales as it's ramped up issuance this year.
Here are the highlights from some firms' forecasts for what Treasury will announce this week regarding the two-month bill and changes to the TIPS program:
Bank of America:

A new 2-month bill, with first sale in October
A new 5-year TIPS sale, starting in October

TD:

Possible announcement of 2-month bill, but more likely in November
New 5-year TIPS sale starting in October

Wells Fargo:

Details on 2-month bill, with first sale by year-end
Five-year TIPS addition likely, with first sale in October

Goldman Sachs:

Treasury probably waits until November to add 2-month bill

Credit Suisse:

2-month bill sales to begin in fourth quarter
New 5-year TIPS calendar date to be announced in November