Midwest Extends Covid-19 Surge, With Highs in Illinois, Iowa
(Bloomberg) -- The Covid-19 surge in the Midwest rose to a record, led by single-day highs Wednesday in Kansas, Iowa and South Dakota as the region's outbreak spread toward both coasts. Illinois reported record cases Thursday.
The Midwest's seven-day average of new cases per million residents hit 373, well above anything recorded by the Northeast and South during their respective surges in April and July.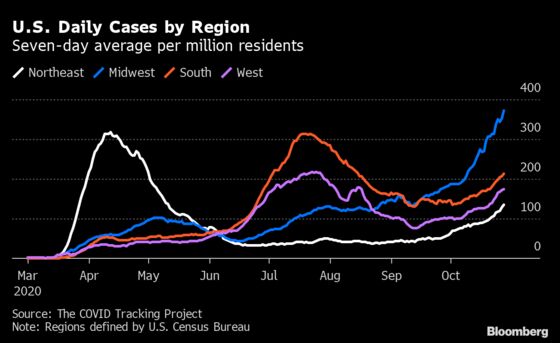 Iowa joins Wisconsin among Midwest states with bad outbreaks that could be pivotal on Election Day. Polls show a close race for Iowa's six Electoral College votes, according to FiveThirtyEight.
While the Midwest has the worst trend, cases have been rising across the country, with the seven-day average in the Northeast reaching the most since May and the tally in the South and West hitting the highest since August.
Nationally, the country added 78,395 cases Thursday, pushing the seven-day average to a record 74,233, according to Johns Hopkins University. There have been almost 228,000 deaths.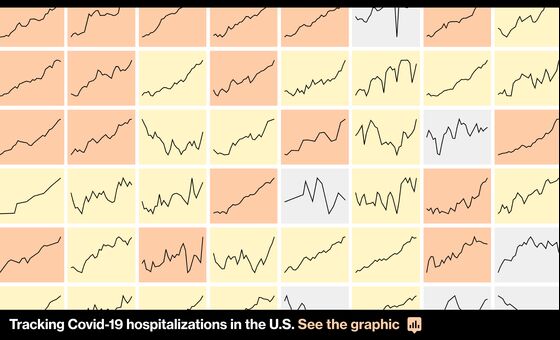 According to Covid Tracking Project and state data:
45,045 people are hospitalized with the virus, the most since Aug. 14.
Midwest hospitalizations hit a record 13,133, but remain significantly below the peaks of both the Northeast and South surges earlier in pandemic, both on an absolute and per-capita basis.
South Dakota, North Dakota and Wisconsin have the most cases per capita in the past seven days.
In Illinois, cases rose to a high of 6,363 on Thursday, pushing the seven-day test positivity rate to 6.9%. Illinois Covid patients in intensive-units and hospitals overall reached the highest since June.